NAVYPEDIA Support the project with paypal
Photo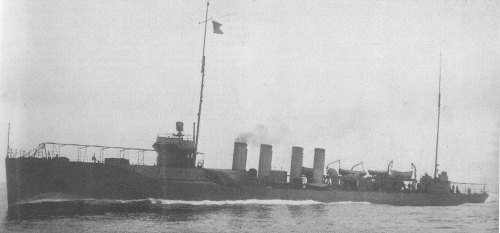 Jacob Jones 1915  
Ships
| No | Name | Yard No | Builder | Laid down | Launched | Comm | Fate |
| --- | --- | --- | --- | --- | --- | --- | --- |
| DD57, 3.1926- CG23, 6.1933- DD57 | Tucker, 11.1933- unnamed | 226 | Fore River, Quincy | 11.1914 | 4.5.1915 | 4.1916 | Coast Guard cutter 3.1926, destroyer 6.1933, stricken 10.1936 |
| DD58, 6.1924- CG2, 6.1933- DD58 | Conyngham, 11.1933- unnamed | 419 | Cramp, Philadelphia | 7.1914 | 8.7.1915 | 1.1916 | Coast Guard cutter 6.1924, destroyer 6.1933, stricken 7.1934 |
| DD59, 6.1924- CG7, 6.1933- DD59 | Porter, 7.1933- unnamed | 420 | Cramp, Philadelphia | 8.1914 | 26.7.1915 | 4.1916 | Coast Guard cutter 6.1924, destroyer 6.1933, stricken 7.1934 |
| DD60 | Wadsworth | 64 | Bath Iron Wks | 2.1914 | 29.4.1915 | 7.1915 | stricken 1.1936 |
| DD61 | Jacob Jones | 150 | New York SB, Camden | 1914 | 29.5.1915 | 2/1916 | sunk 6.12.1917 |
| DD62, 4.1926- CG24, 4.1934- DD62 | Wainwright | 151 | New York SB, Camden | 9.1914 | 12.6.1915 | 5.1916 | Coast Guard cutter 4.1926, destroyer 4.1934, stricken 7.1934 |
Technical data
Displacement normal, t

DD57 - 59: 1090

DD60: 1060

DD61, 62: 1150

Displacement full, t

1205

Length, m

96.1

Breadth, m

DD57, 60, 62: 9.10

DD58, 59: 9.30

Draught, m

DD57 - 59, 62: 2.90

DD60: 2.80

No of shafts

2

Machinery

DD57 - 59, 61, 62: 2 Curtis steam turbines / 1 stream turbine for cruising, 4 Yarrow boilers

DD60: 2 sets Curtis geared steam turbines, 4 Yarrow boilers

Power, h. p.

DD57, 61, 62: 17000

DD58, 59: 18000

DD60: 17500

Max speed, kts

29.5

Fuel, t

oil 310

Endurance, nm(kts)
2500(20)
Armament

4 x 1 - 102/50 Mk IX, 4 x 2 - 533 TT, 2 DCR

Complement

99
Standard scale images

nearly sister-ship Nicholson 1915
Graphics
Project history
Last class of '1000-tonners' , direct predecessors of 'flushdeckers', differing from them only by hull form (with a forecastle).
Modernizations
1917 - 1918, all: + 1 DCT (Y-gun)
Naval service
About half of ships of this class served in the European waters in 1917-1918. Wadsworth was a leader of USN destroyers in British waters since April, 1917. Jacob Jones was torpedoed off Scilly island by German submarine U53 6.12.1917.
© 2007-2022 - navypedia.org