NAVYPEDIA Support the project with paypal
Photo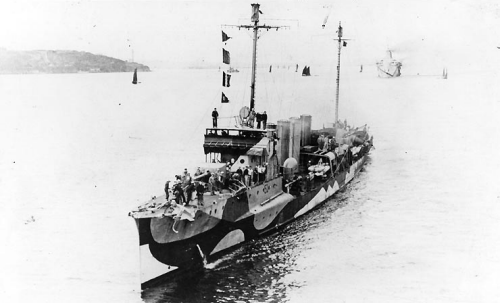 O`Brien 1918
Ships
| No | Name | Yard No | Builder | Laid down | Launched | Comm | Fate |
| --- | --- | --- | --- | --- | --- | --- | --- |
| DD51 | O'Brien | 404 | Cramp, Philadelphia | 9.1913 | 20.7.1914 | 5.1915 | stricken 3.1935 |
| DD52 | Nicholson | 405 | Cramp, Philadelphia | 9.1913 | 19.8.1914 | 4.1915 | stricken 1.1936 |
| DD53 | Winslow, 11.1933- unnamed | 406 | Cramp, Philadelphia | 10.1913 | 11.2.1915 | 8.1915 | stricken 1.1936 |
| DD54, 6.1924- CG6, 6.1933- DD54 | McDougal, 7.1933- unnamed | 62 | Bath Iron Wks | 7.1913 | 22.4.1914 | 5/1914 | Coast Guard cutter 6.1924, destroyer 6.1933, stricken 7.1934 |
| DD55 | Cushing, 7.1933- unnamed | 215 | Fore River, Quincy | 9.1913 | 16.1.1915 | 8.1915 | stricken 1.1936 |
| DD56, 6.1924- CG5, 4.1934- DD56 | Ericsson | 141 | New York SB, Camden | 11.1913 | 22.8.1914 | 8.1915 | Coast Guard cutter 6.1924, destroyer 4.1934, stricken 7.1934 |
Technical data
Displacement normal, t

1050

Displacement full, t

1171

Length, m

93.1

Breadth, m

9.50

Draught, m

2.90

No of shafts

2

Machinery

DD51 - 53: 2 Zoelly steam turbines / 2 VTE for cruising, 4 White Forster boilers

DD54, 56: 2 Zoelly steam turbines / 1 VTE for cruising, 4 White Forster boilers

DD55: 2 Zoelly steam turbines / 2 steam turbines for cruising, 4 White Forster boilers

Power, h. p.

17000

Max speed, kts

29

Fuel, t

oil 290

Endurance, nm(kts)
 
Armament

4 x 1 - 102/50 Mk IX, 4 x 2 - 533 TT

Complement

101
Standard scale images

Nicholson 1915
Graphics
Project history
These were improved Cassins with 533mm TT which had been suggested by the Bureau of Ordnance in May 1912. The first six were authorized in March 1913. The second group of six (DD 57-62), the Tucker class, were authorized in 1913. Their General Board characteristics included, for the first time, a call for two AA guns, as well as provision to lay 36 floating mines.

Of this class, DD 51-53 had a reciprocating cruise engine on each shaft; DD 54 and DD 56 had a single reciprocating engine which could be clutched to one shaft for cruising; DD 55 had a pair of cruising turbines; DD 57-59 and DD 61-62 had a single cruising turbine geared to one shaft. Wadsworth (DD 60) had the prototype US main turbine geared turbine installation, and so had a considerable effect on destroyer design from 1915 on.
Modernizations
1917 - 1918, all: + 1 DCT (Y-gun), 2 DCR
Naval service
The part of these destroyers was a part of USN Forces in Europe during Great War.
© 2007-2023 - navypedia.org