Photo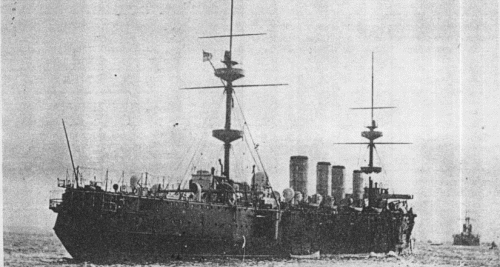 Terrible as completed
Ships
| Name | No | Yard No | Builder | Laid down | Launched | Comp | Fate |
| --- | --- | --- | --- | --- | --- | --- | --- |
| Terrible | P70, PA9 | 272 | Thompson, Clydebank | 1894 | 27.5.1895 | 24.3.1898 | disarmed as personnel transport 1915 |
| Powerful |   | 237 | Vickers, Barrow | 1894 | 24.7.1895 | 8.6.1897 | harbour TS 1912 |
Technical data
| | |
| --- | --- |
| Displacement normal, t | 14200 |
| Displacement full, t |   |
| Length, m | 152.4 pp 164.0 oa |
| Breadth, m | 21.6 |
| Draught, m | 7.32 |
| No of shafts | 2 |
| Machinery | 2 4-cyl VTE, 48 Belleville boilers |
| Power, h. p. | 25000 |
| Max speed, kts | 22 |
| Fuel, t | coal 3000 |
| Endurance, nm(kts) | 7000(14) |
| Armour, mm | Harvey steel; deck: 152 - 51, turrets: 152, barbettes: 152, ammunition hoists: 51, casemates: 152 - 51, CT: 305 |
| Armament | 2 x 1 - 234/41 BL Mk VIII, 12 x 1 - 152/40 QF Mk I/II, 16 x 1 - 76/40 12pdr 12cwt QF Mk I, 12 x 1 - 47/40 3pdr Hotchkiss Mk I, 4 - 450 TT (sub, beam) |
| Complement | 894 |
Standard scale images

Powerful 1897
Graphics
Project history
Built in answer to the Russian cruisers Ryurik and Rossiya, these vessels were the largest cruisers and longest warships in existence at the time of their completion. They were expensive to build, costing almost twice as much per ship as the Edgar class, and proved to be white elephants as they required a very large crew, were costly to operate and did hot fulfil any true requirement of the Navy. Most of the increased displacement over earlier ships was necessary to provide for the large machinery plant and coal capacity required for a speed of 22kts and an endurance of 7000nm at 14kts. They were the first large British ships to employ watertube boilers, a bold step which later caused several problems mainly due to inexperience in the operation and construction of the Belleville boiler. Both completed for trials in 1896 but considerable trouble was experienced with the engines and it was some time before they commissioned. On trials Powerful achieved 21.8kts with 25886ihp and Terrible 22.4kts with 25572ihp and, although they continued to have engine problems throughout their careers, they proved to be capable of maintaining high sea speeds for long periods. They were the first four-funnelled cruisers to be built for the Royal Navy, and after their initial trials the funnels were raised to improve the draught to the boilers. They carried one more deck than earlier first class cruisers although this full-length 'boat deck' had a large well amidships around the funnel uptakes and engine room hatches. Their great length gave these cruisers a very large turning circle, but they were very good seaboats mainly because of their high freeboard.
Ship protection
The crown of the protective deck was 1.1m above and its outer edge 2.0m below the Iwl, and it was 152mm thick over the machinery, thinning to 51mm over a narrow section of the crown and 102mm over the magazines and reducing to 51mm forward and 76mm aft. For the first time in a cruiser all the main guns were given full protection, the 234mm weapons being mounted in armoured turrets, on the forecastle and quarterdeck, and the 152mm guns in casemates. The two foremost and aftermost 152mm guns on each side had two-storey casemates, the first time this arrangement was used in a British ship, while the remaining four guns were mounted amidships in single casemates on the main deck. The 234mm turrets had shallow armoured barbettes and 234mm ammunition hoists for these and the 152mm casemates were protected by 51mm armoured tubes down to the protective deck.
Modernizations
1902-1904, both: - 2 x 1 - 76/40; + 4 x 1 - 152/40 QF Mk I/II
Naval service
Terrible was employed as a troop ship in 1915 and then served as an accommodation ship until 1920 when she became TS Fisgard III, sold for BU in July 1932. Powerful was used as a harbour TS at Devonport in 1912, employed as a TS at Devonport from 1915 until the late 1920s and was renamed Impregnable II in 1919, sold for BU in August 1929.

Many thanks to Wolfgang Stöhr for additional information on this page.