Photo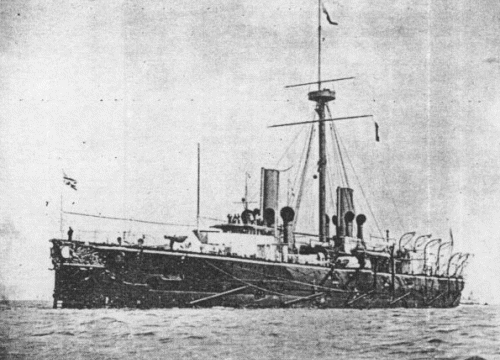 Warspite as built
Ships
| Name | No | Yard No | Builder | Laid down | Launched | Comp | Fate |
| --- | --- | --- | --- | --- | --- | --- | --- |
| Imperieuse |   |   | Portsmouth DYd | 10.8.1881 | 18.12.1883 | 9.1886 | destroyer depot ship Sapphire II 2.1905 |
| Warspite |   |   | Chatham DYd | 25.10.1881 | 29.1.1884 | 6.1888 | sold to BU 4.1905 |
Technical data
Displacement normal, t

8500

Displacement full, t

 

Length, m

96.0 pp

Breadth, m

18.9

Draught, m

8.15

No of shafts

2

Machinery

2 3-cyl IVC, 12 cylindrical and oval boilers

Power, h. p.

natural draught: 8000

forced draught: 10000

Max speed, kts

natural draught: 16

forced draught: 16.7

Fuel, t

coal 1130

Endurance, nm(kts)

7000(10)

Armour, mm
compound; belt: 254 on 254 teak backing, bulkheads: 229, barbettes: 203, gunshields: 51, ammunition tubes: 76, decks: 102 - 51, CT: 229
Armament

Imperieuse: 4 x 1 - 234/32 BL Mk III, 6 x 1 - 152/26 BL Mk VI, 4 x 1 - 57/40 Hotchkiss Mk I, 6 - 450 TT (beam, aw)

Warspite: 4 x 1 - 234/32 BL Mk VI, 8 x 1 - 152/26 BL Mk VI, 4 x 1 - 57/40 Hotchkiss Mk I, 6 - 450 TT (beam, aw)

Complement

555
Standard scale images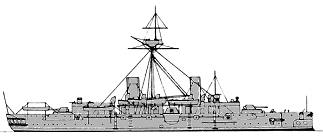 Imperieuse 1886
Graphics
Project history
Cruiser contemporaries of the Admiral class battleships with 'all or nothing' protection, barbette mounted BL guns etc. Despite their modern features they were intended to fulfil the same function as the early armoured cruisers and were equally unsuccessful, largely due to their being seriously overweight as completed partly as a result of additions during construction and partly because of inaccurate design calculations and inefficient control of construction material. Shortly after construction began it was decided to improve stability by increasing the thickness of their sheathing (wood and copper for tropical service) from 102 to 254mm, which increased the beam by 0.3m and raised the designed displacement by 210t to 7600t. In addition the 234mm 18t and 152mm 4.5t guns were replaced by 24t and 5t weapons of the same calibre, the machinery was modified and the nominal coal stowage increased from 400 to 900t (max capacity from 900t to 1130t) which together with other minor additions and the overweight condition of the ships` structure raised the load displacement by 900t and increased the draught by 0.64m. The main armament disposition followed French practice with four 234mm BL guns mounted in individual barbettes in a diamond arrangement which gave theoretical fire for 3 guns on any bearing but this was not possible in practice due to blast effects. To give the two wing guns arcs of fire clear of the rig and superstructure it was necessary to place the barbettes in sponsons and to give the hull an unusual tumblehome of semi-circular form. The 152mm guns were fitted 5 on each side with the endmost parts embrasured for end-on fire. As a result of their overweight condition the number of 152mm guns was restricted to 6 but on the reduction of rig this number was increased to 8 with the remaining pair as a 'war only' fitting. Also due to the overweight condition the torpedo ports were raised by 0.6m in 1887. As completed Imperieuse carried a 'peacetime only' brig rig of 1914m2 sail area for economical cruising on distant stations. On trials she proved a very poor and sluggish sailing ship and the rig was subsequently removed from both ships (saving 100t) and replaced by a single mast, with fighting top, amidships. Fortunately they did have a reasonable endurance, about 6500nm at 10kts with full bunkers, and were reasonably good steam vessels and steady gun platforms.
Ship protection
Protection to the machinery consisted of an 2.44m by 42.7m waterline belt of compound armour closed at the ends by 229mm bulkheads and covered by a 51mm deck. Fore and aft of this was a 102mm protective deck extending, below water, to bow and stern. As designed the top of the belt was 1m above Iwl but as completed this was reduced to 0.33m and at deep displacement the belt would have been virtually submerged. However the effectiveness of such a small area of side armour is doubtful and the increased immersion only serves to emphasise the point.
Modernizations
1887, Imperieuse: brig rig was removed; + 2 x 1 - 152/26 BL Mk IV/VI

1890s, both: - 8 x 1 - 152/26; + 8 x 1 - 152/27 QF Mk III/VI
Naval service
Warspite was port-guard ship at Queenstown in 1893-1896. Imperieuse became a destroyer depot ship at Portland in 1905 and was renamed Sapphire II, but she reverted to her original name in 1909.