Photo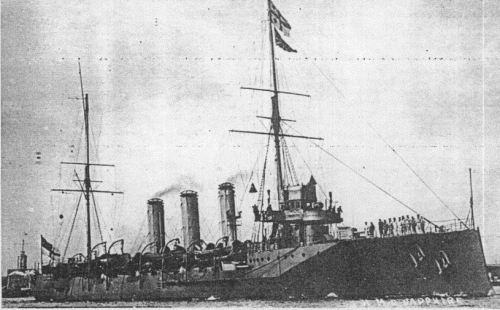 Sapphire as completed
Ships
| Name | No | Yard No | Builder | Laid down | Launched | Comp | Fate |
| --- | --- | --- | --- | --- | --- | --- | --- |
| Topaze | P29, P2A, P1C | 653 | Laird, Birkenhead | 14.8.1902 | 23.7.1903 | 11.1904 | sold 9.1921 |
| Amethyst | P00, P02 | 735 | Armstrong, Elswick | 7.1.1903 | 5.11.1903 | 17.3.1905 | sold 10.1920 |
| Diamond | N61, N33, 32, N70 | 654 | Laird, Birkenhead | 24.3.1903 | 6.1.1904 | 1.1905 | sold 5.1921 |
| Sapphire | N78, N89 | 775 | Palmer, Jarrow | 30.3.1903 | 17.3.1904 | 7.2.1905 | sold 5.1921 |
Technical data
Displacement normal, t

3000

Displacement full, t
 
Length, m

109.7 pp 113.9 oa

Breadth, m

12.2

Draught, m

4.42

No of shafts

Topaze, Diamond, Sapphire: 2

Amethyst: 3

Machinery

Topaze, Diamond: 2 4-cyl VTE, 10 Laird-Normand boilers

Amethyst: 3 Parsons steam turbines, 10 Yarrow boilers

Sapphire: 2 4-cyl VTE, 10 Reed boilers

Power, h. p.

Topaze, Diamond, Sapphire: forced draught: 9800

Amethyst: forced draught: 12000

Max speed, kts

Topaze, Diamond, Sapphire: forced draught: 21.7

Amethyst: forced draught: 22.5

Fuel, t

coal 750

Endurance, nm(kts)

Topaze, Diamond, Sapphire: 7000(10)

Amethyst: 5500(10)

Armour, mm
deck: 51 - 19, gunshields: 25, CT: 76
Armament

12 x 1 - 102/40 QF Mk III, 8 x 1 - 47/40 3pdr Hotchkiss Mk I, 4 x 1 - 7.7/94, 2 - 450 TT (beam aw)

Complement

296
Standard scale images

Amethyst 1905
Graphics
Project history
The Gem class were the last and largest of Britain's 3rd class cruisers. Topaze and Amethyst were ordered under the 1902/03 Programme and the other pair under the 1903/04 Programme, while a further four projected vessels were cancelled. In general they followed the style of earlier ships but were faster, carried more guns, were better protected and had improved seakeeping qualities. Two of the 102mm guns were fitted on the centreline of the forecastle and poop while the remainder were equally disposed along each side of the upper deck. The 47mm guns were mounted 4 on each side with 1 on the forecastle, 2 in the waist and 1 on the poop.

Amethyst was the first warship larger than a destroyer to be fitted with turbines, a modification decided upon so that she could be used for comparative trials with her TE-engined sisters. Turbines were more economic on fuel at high powers but less economic at low powers, and to compensate for this she was also fitted with cruising turbines which gave her an endurance of 5500nm at 10kts compared with 7000nm in her sisters; however, at 20kts her endurance was 3000nm compared with 2000nm in the others. On trials she achieved 23.4kts with 14,200shp and subsequently proved the most reliable ship of the class. All the remaining ships exceeded 22kts on trials, averaging 10,000ihp.
Ship protection
The protective deck was 25mm on the flat and 51mm on the slope amidships, reducing to 19mm flat and 25mm slope at the ends.
Modernizations
1918, Diamond: + 6 CMB-40 MTBs on davits
Naval service
Diamond in 1918 was used as a 'CMB carrier' with 6 40ft CMBs carried in davits.

Many thanks to Wolfgang Stöhr for additional information on this page.