NAVYPEDIA Support the project with paypal
Ships
| Name | No | Yard No | Builder | Laid down | Launched | Comp | Fate |
| --- | --- | --- | --- | --- | --- | --- | --- |
| Challenger | D33, P07, P81 |   | Chatham DYd | 1.12.1900 | 27.5.1902 | 3.5.1904 | sold for BU 5.1920 |
| Encounter (7/1912- RAN) |   |   | Devonport DYd | 28.1.1901 | 18.6.1902 | 21.11.1905 | submarine depot ship Penguin 5.1923 |
Technical data
Displacement normal, t
5880
Displacement full, t

 

Length, m

106.7 pp 113.4 oa

Breadth, m

16.5

Draught, m

6.25

No of shafts

2

Machinery

Challenger: 2 4-cyl. VTE, 18 Babcock boilers

Encounter: 2 4-cyl. VTE, 18 Durr boilers

Power, h. p.

12500

Max speed, kts

21

Fuel, t

coal 1100

Endurance, nm(kts)
9000(10)
Armour, mm

Harvey steel; deck: 76 - 38, gun shields: 76, CT: 152, engine hatches: 127

Armament

11 x 1 - 152/45 BL Mk VII, 9 x 1 - 76/40 12pdr 12cwt QF Mk I, 6 x 1 - 47/40 3pdr Hotchkiss Mk I, 2 - 450 TT (sub, beam)

Complement

450
Standard scale images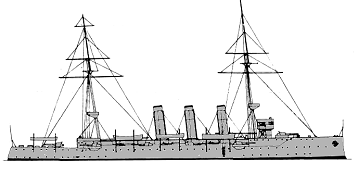 Challenger 1904
Project history
Repeats of Eclipse class except for the provision of uniform 152mm gun armament and installation of watertube boilers. This pair was built under the 1900/01 Programme. Challenger and Encounter differed from the earlier group in adopting more powerful machinery and wind sails in place of cowls. On trials Challenger made 21.09kts with 12,806ihp and Encounter 21.3kts with 13,000ihp.
Ship protection
38mm deck with 76mm slopes protected machinery spaces.
Modernizations
None.
Naval service
Challenger was paid off in April 1919. Encounter served as receiving ship at Sydney from December 1919.
© 2007-2022 - navypedia.org