Photo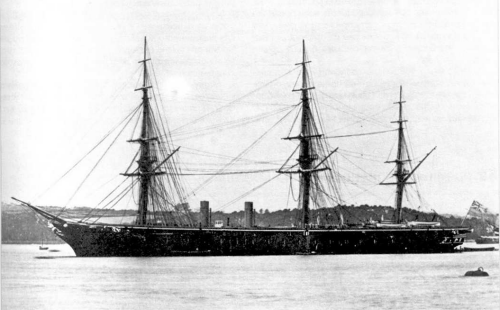 Warrior
Ships
| Name | No | Yard No | Builder | Laid down | Launched | Comp | Fate |
| --- | --- | --- | --- | --- | --- | --- | --- |
| Warrior |   | 76e | Ditchburn & Mare (Thames Iron Wks), Blackwall | 25.5.1859 | 29.12.1860 | 24.10.1861 | depot ship 7.1902 |
| Black Prince (ex-Invincible) |   | 98 | Napier, Govan | 12.10.1859 | 27.2.1861 | 12.9.1862 | TS 1899 |
Technical data
Displacement normal, t

Warrior: 9137

Black Prince: 9250

Displacement full, t
 
Length, m

115.9 pp 128.0 oa

Breadth, m

17.8

Draught, m

8.18 aft

No of shafts

Warrior: 1 hoisting

Black Prince: 1

Machinery

sails + 1 2-cyl HSE, trunk, 10 rectangular boilers

Power, h. p.

Warrior: 5267

Black Prince: 5770

Max speed, kts

Warrior: 14.1

Black Prince: 13.6

Fuel, t

coal 850

Endurance, nm(kts)
2100(11)
Armour, mm
iron; belt: 114 with 457mm teak backing, bulkheads: 114
Armament

10 x 1 - 183/17 110pdr 82cwt BL, 4 x 1 - 121/21 40pdr 35cwt BL, 26 x 1 - 206/15 68pdr 95cwt shell SBML

Complement

635
Graphics
Project history
First in the world ocean-going iron armoured ships. Provided under the 1859 Programme. Ships were classified as frigates because of their single gun deck, but at the time of completion they were the most powerful warships in the world. High L/B ratio and fine lines of ship ends had to ship high speed but also poor handling and manoeuvrability.

Ships were ship-rigged, with 4,500m2 sail area (inc stunsails). Warrior recorded 17kts speed under combined steam and sail propulsion. Warrior had a lifting screw, and Black Prince had a fixed screw.

Designed armament had to consist from 48 68pdr SBML guns, but ships were re-armed during building.
Ship protection
Armour belt amidships (64.9x6.71m) consisted of 4.57x0.91m iron plates, weighing 4t each. The plates were tongued and grooved to give mutual support if struck by a shell, but the process was expensive and never repeated later. Unarmoured ends could be bilged but steering gear was unprotected. Hull was partially double-bottomed (at 73.1m length) below machinery and midships magazine.
Modernizations
1863, both: funnels were raised by 1.8m to improve draught to the boilers

1867-1868, Warrior: was completely rearmed with: 4 x 1 - 203/15 MLR Mk III, 28 x 1 - 178/16 MLR Mk III, 4 x 1 - 95/21 20pdr 16cwt BL

1867-1868, Black Prince: was completely rearmed with: 4 x 1 - 203/15 MLR Mk III, 24 x 1 - 178/16 MLR Mk III, 4 x 1 - 95/21 20pdr 16cwt BL

1872-1875, both: were fitted with a poop and steam capstan
Naval service
Both were re-classified as armoured cruisers in 1881. Black Prince was converted to TS in 1899, renamed Emerald in April 1904, Impregnable III in June 1910 and sold 21.2.1923. Warrior became a depot ship in July 1902, renamed Vernon III in March 1904. She was hulked in 1923 and renamed Warrior and in 1945 C.77. In 1979 ship was renamed Warrior and preserved at Portsmouth as museum.

Thanks to Wolfgang Stöhr for additional information on this page.