Photo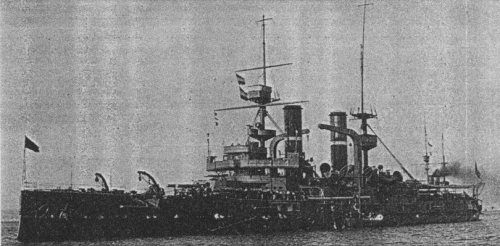 Triumph
Ships
| Name | No | Yard No | Builder | Laid down | Launched | Comp | Fate |
| --- | --- | --- | --- | --- | --- | --- | --- |
| Swiftsure (ex-Constitucion) | P05 | 733 | Armstrong, Elswick | 26.2.1902 | 12.1.1903 | 6.1904 | disarmed 1917, sold for BU 6.1920 |
| Triumph (ex-Libertad) |   | 289 | Vickers, Barrow | 26.2.1902 | 15.1.1903 | 6.1904 | sunk 25.5.1915 |
Technical data
Displacement normal, t

Swiftsure: 11800

Triumph: 11985

Displacement full, t
 
Length, m

132.9 pp 146.2 oa

Breadth, m

21.6

Draught, m

7.72

No of shafts

2

Machinery

2 3-cyl VTE, 12 large-tube Yarrow boilers

Power, h. p.

12500

Max speed, kts

19

Fuel, t

coal 2050

Endurance, nm(kts)

6200(10)

Armour, mm

belt: 178 - 76, bulkheads: 152 - 51, gun houses: 254 - 203, barbettes: 254 - 51, battery and casemates: 178, decks: 76 - 25, CT: 279

Armament

Swiftsure: 2 x 2 - 254/45 BL Mk VI, 14 x 1 - 190/50 BL Mk III, 14 x 1 - 76/50 14pdr QF Mk I, 6 x 1 - 57/50 6pdr Elswick Mk I, 2 - 450 TT (beam, 9)

Triumph: 2 x 2 - 254/45 BL Mk VII, 14 x 1 - 190/50 BL Mk IV, 14 x 1 - 76/50 14pdr QF Mk II, 6 x 1 - 57/50 6pdr Vickers Mk I, 2 - 450 TT (beam, 9)

Complement

800
Graphics
Project history
Designed by Reed for Chile and purchased by the British Government 3.12.1903 to prevent their possible purchase by Russia, Swiftsure and Triumph were comparatively small 2nd class ships intended as a counter to the new armoured cruisers of the Argentine Navy. Compared with British ships, they were lightly constructed, armed and armoured but they had a powerful secondary battery and high speed. Their uses in the Royal Navy were limited as they were insufficiently protected to face the majority of battleships, although their speed would have allowed their use against older cruisers. 10 190mm guns were mounted in a central battery on the main deck, remaining 4 guns were mounted in casemates abreast the fore and main masts on the upper deck.

Beam and draught were limited by Chilean docking facilities and, therefore, they were comparatively long ships, fitted with a balanced rudder, and with the deadwood aft cut away to improve manoeuvring qualities. Both exceeded their designed power and made 20kts with 14000hp on 6hr full power trials.
Ship protection
The belt, 2.4m deep, 178mm thick amidships reducing to 152mm, 76mm and 64mm fwd and 152mm and 76mm aft, stopped short of the stern where it was closed by a 76mm bulkhead. The redoubt between the belt and battery armour extended from the fwd to the aft barbette with 178mm sides and 152-51mm bulkheads. Central battery had 178mm sides and 152mm end bulkheads and was divided into individual gun flats by 25mm bulkheads. Casemates also had 178mm protection. The main protective deck over the belt was 38mm amidships and 76mm at the ends, and the upper deck over the battery was 25mm. The gun houses had 254mm faces and 203mm walls and barbettes reduced to 76mm and 51mm behind the side armour.
Modernizations
None.
Naval service
Swiftsure was placed in reserve in 1915 and in 1917 all her armament was removed in preparation for her conversion to a blockship for use in the projected Belgian Coast attack. Conversion was cancelled and she was used later as an overflow ship and in 1919 as target. Triumph 25.5.1915 off Gaba Tepe (Dardanelles) was torpedoed by German submarine U21, she capsized within half an hour and sank with the loss of 73 men.

Many thanks to Wolfgang Stöhr for additional information on this page.