Photo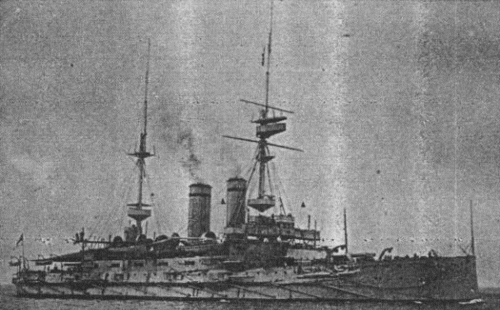 Venerable after 1909
Ships
| Name | No | Yard No | Builder | Laid down | Launched | Comp | Fate |
| --- | --- | --- | --- | --- | --- | --- | --- |
| London | 70, 81, N41 |   | Portsmouth DYd | 8.12.1898 | 21.9.1899 | 6.1902 | minelayer 1.1918, reserve depot 1919, sold for BU 6.1920 |
| Bulwark | 95 |   | Devonport DYd | 20.3.1899 | 18.10.1899 | 3.1902 | internal explosion 26.11.1914 |
| Venerable | 96, A8, N36 |   | Chatham DYd | 2.1.1899 | 2.11.1899 | 11.1902 | harbour service 1918, sold for BU 6.1920 |
| Queen | 82, 96 |   | Devonport DYd | 12.3.1901 | 8.3.1902 | 3.1904 | partly disarmed 1918, sold for BU 9.1920 |
| Prince of Wales | 81, 94, N46 |   | Chatham DYd | 20.3.1901 | 25.3.1902 | 3.1904 | harbour service early 1918, sold for BU 4.1920 |
Technical data
Displacement normal, t

London, Bulwark, Venerable: 14500

Queen, Prince of Wales: 14150

Displacement full, t

London, Bulwark, Venerable: 15700

Queen, Prince of Wales: 15400

Length, m

121.9 pp 131.6 oa

Breadth, m

22.9

Draught, m

7.92

No of shafts

2

Machinery

London, Bulwark, Venerable, Prince of Wales: 2 3-cyl VTE, 20 Belleville boilers

Queen: 2 3-cyl VTE, 20 Babcock & Wilcox boilers

Power, h. p.

15000

Max speed, kts

18

Fuel, t

coal 2200

Endurance, nm(kts)

8000(10)

Armour, mm

belt: 229, bulkheads: 305 - 229, gun houses: 254 - 203, barbettes: 305, casemates: 152, decks: 64 - 25, CT: 356

Armament

2 x 2 - 305/40 BL Mk IX, 12 x 1 - 152/45 BL Mk VII, 16 x 1 - 76/40 12pdr 12cwt QF Mk I, 6 x 1 - 47/40 3pdr Hotchkiss Mk I, 4 - 450 TT (beam)

Complement

714
Graphics
Project history
The first 3 ships of London class were built under the 1898-99 Estimates and the last 2 under the 1900-01 Estimates. They were repeats of Formidable class except for some modifications to protection. Queen and Prince of Wakes differed from the others in having open 76mm gun batteries amidships on the upper deck. The designed displacement was 15000t.
Ship protection
The armour layout was similar to Canopus, except thet the belt continued to the stern as well to the bow. The belt was 229mm Krupp, 76.3m long (additional 9.8m were at fwd end of the belt) by 4.6m deep, and continued to the stem reducing in thickness from 178mm, 127mm and 76mm to 51mm at the stem 3.7m deep, and to the stern as a 38mm belt 2.4m deep. The fwd armour bulkhead was omitted in favour of a stronger fwd belt. The barbettes reduced to 152mm behind the belt, whilst the gun houses were of Krupp steel with 254mm sides and 203mm backs. Decks were as Formidable except the middle deck, which was reduced to 25mm on the flat and 51mm on the slopes; lower deck aft was 64mm but lower deck fwd was reduced to 25mm. In addition the main deck was increased to 51mm and continued to the stem, reducing to 38mm at the fwd end.
Modernizations 1.
1918, London: guns were removed from a fwd turret, the aft turret was replaced by 152mm gun, entire main deck aft was converted to a mine deck with mine rails; - 2 x 2 - 305/40, + 1 x 1 - 152/45 BL Mk VII, 240 mines

1918, Queen: - 2 x 2 - 305/40
Naval service
Bulwark 26.11.1914 while loading ammunition at Sheerness was destroyed by an internal explosion, probably caused by careless handling of black powder charges on the upper deck. Only 12 men survived. London in 1912 was used in experiments with seaplanes, during these trials seaplanes took off from a ramp over the forecastle. In 1.1918 she joined 1st Minelaying Squadron as minelayer but in 1919 she was a reserve depot. Venerable was reduced to harbour service early in 1918 until paid off in 1919. Prince of Wales early in 1918 was also reduced to harbour service. Queen was used at Taranto as a base ship since 1915 until 1918, but before she returned home her main guns were removed and transferred to the Italian Navy.