Photo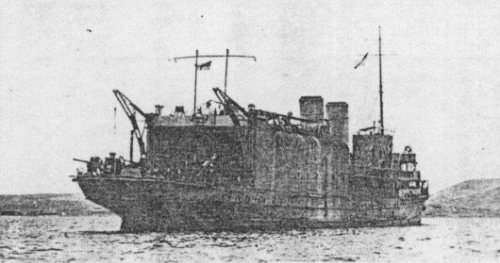 Empress 1918
Ships
| Name | Launched // Comm. | Builder | Tonnage, BRT | Dimensions, m | Speed, kts | Machinery, Fuel, Power, t | Armament | Fate |
| --- | --- | --- | --- | --- | --- | --- | --- | --- |
| Empress N38, N39 | 13.4.1907 // 8.1914 | Denny, Dumbarton // Chatham DYd | 2580t | 98.5x12.5x4.6 | 21 | 3turbines, coal 425, 11000 | 2-40/39, 3 seaplanes | returned 11.1919 |
| Riviera N85 | 1.4.1911 // 8.1914 | Denny, Dumbarton // Chatham DYd | 2500t | 96.3(pp)x12.5x4.3 | 20.5 | 3turbines, 6000 | 2-40/39, 3 seaplanes | returned late 1919 |
| Engadine N91, N42 | 23.9.1911 // 8.1914 | Denny, Dumbarton // Chatham DYd | 1881t | 96.3(pp)x12.5x4.9 | 21.5 | 3turbines, 6000 | 2-40/39, 3 seaplanes | returned 12.1919 |
| Ben-My-Chree P49 | 23.3.1908 // 3.1915 | Vickers, Barrow // Cammell Laird, Birkenhead | 3888t | 114.3x14.0x4.9 | 24.5 | 3turbines, 14500 | 4-76/50, 2-47/40, 4-6seaplanes | sunk 11.1.1917 |
| Campania P54, N15 | 8.9.1893 // 4.1915 | Fairfield, Govan // Cammell Laird, Birkenhead | 18000t | 189.6x19.8x7.9 | 21 | 2VTE, 28000 | 6-120/40 QF Mk.I/II/III/IV, 1-76/45, 10 seaplanes | collision 5.11.1918 |
| Raven II (ex-Rabenfels), 1917- Ravenrock | 1903 // 6.1915 | Swan Hunter, Wallsend | 4706 | 120.2x15.7x8.4 | 10 | 1VQE | 1-76/40, 6seaplanes | mercantile service 1.1918 |
| Anne (ex-Anne Rickmers) | 1911 // 8.1915 | Rickmers, Bremerhaven, Germany | 4083 | 111.9x14.5x8.3 | 11 | 1VTE | 1-76/40, 2seaplanes | collier 1.1918 |
| Vindex (ex-Viking) N00, N3A | 7.3.1905 // 11.1915 | Armstrong, Elswick //Cammell Laird, Birkenhead | 2950t | 110.2x12.8x4.2 | 23 | 3turbines, 11000 | 4-76/50, 1-57/40, 7seaplanes | sold 2.1920 |
| Manxman N70 | 15.6.1904 // 4.1916 | Vickers, Barrow // Chatham DYd | 2048t | 104.0x13.0x4.9 | 21 | 3turbines, 6300 | 2-102/40, 1-57/40, 8seaplanes | returned 2.1920 |
| Alader Yousanoff (ex-Aleydar Useynov) | 1905 // 10.1918 | Sormovo, Nizhniy Novgorod, Russia | 2071 |   | 11 |   | 1-76/40, 2 seaplanes | to White Russia 8.1919 |
| Orlionoch (ex-Orlionok) | 1883 // 10.1918 |   | 1406 |   |   |   | 2-102/40, 2 seaplanes | to White Russia 8.1919 |
Standard scale images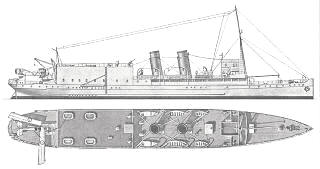 Engadine 1918

Vindex 1916
Manxman 1916 more than 1000 BRT:

Campania 1916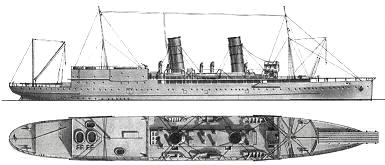 Ben-My-Chree 1916
Graphics
Project history
At beginning of war Admiralty requisitioned three fast ferries from South East and Chatham Railway Co 11.8.1914 (Empress, Riviera, Engadine), they were commissioned at first in August 1914 but soon in 1915 rebuilt by Cunard, receiving permanent hangars, cranes and more powerful artillery.

In addition to the converted Cross-Channel steamers the Admiralty was anxious to acquire a larger hull for use as a seaplane earlier capable of working with the Grand Fleet. The only hull immediately available was the old Cunard record-breaker Campania, which was already in the hands of the breakers T W Ward, but only snipped of deck fittings. She was bought outright on 27 November 1914 and towed to Cammell Laird for a 5-month conversion to a seaplane carrier. The conversion was ambitious, with a 120ft flight deck forward, and a hangar and workshops. Unfortunately the old ship's machinery required constant attention, and keeping up with the Grand Fleet in all weathers was always a strain. The runway was found to be too short, and after unsuccessful trials the fore funnel was removed and replaced by twin flat-sided uptakes which permitted the runway to be extended to 61m. In November 1915 she was fitted to launch a kite balloon aft. The first flight from her deck look place on 6 August 1915, with a Sopwith Schneider.

Three more fast ferries were requisitioned in 1915: Ben-My-Chree and Viking (which became Vindex) from Isle of Man Steam Packet Co and Manxman from Midland Railway Co late in 1915. in January and March 1915 respectively. They received huge hangars aft and flying-off ramps fwd. Later in 1915 two seaplanes were converted from German vessels seized in August 1914 at Port Said: Raven II (ex-Rabenfels) and Anne (ex-Anne Rickmers).

During operations in support of 'White Russians' on the Caspian Sea in late 1918 and 1919 two Russian steamers were converted to small seaplane carriers, Alader Yousanoff and Orlionoch.
Modernizations
1915, Empress, Riviera, Engadine: received permanent hangar instead of canvas, for 4 seaplanes; - 2 x 1 - 40/39; + 4 x 1 - 76/40 12pdr 12cwt QF Mk I, 2 x 1 - 47/50 3pdr Vickers Mk I

mid-1915, Engadine: + 1 x 1 - 40/39 2pdr QF Mk II (AA)

5/1916, Ben-My-Chree: + 4 x 1 - 76/50 12pdr 18cwt QF Mk I
Naval service
Campania 5.11.1918 dragged her cables during a gale in the Firth of Forth and drifted across the bows of the battleship Revenge, and foundered. Ben-My-Chree 11.1.1917 while anchored off Castellorizo was set on fire by Turkish artillery, blew up and sank.