Photo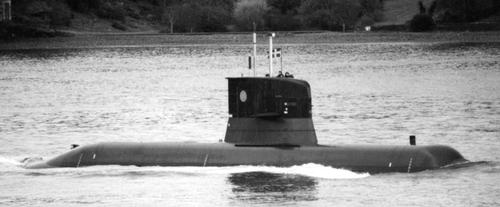 Östergötland 2001
Ships
| Name | No | Yard No | Builder | Laid down | Launched | Comp | Fate |
| --- | --- | --- | --- | --- | --- | --- | --- |
| Västergötland | Vgd | 589/413 | Kockums, Malmö + Karlskronavarvet, Karlskrona | 10.1.1983 | 17.9.1986 | 27.11.1987 | stricken 12.2005, to Singapore (Swordsman) |
| Hälsingland | Hgd | 590/414 | Kockums, Malmö + Karlskronavarvet, Karlskrona | 1.1.1984 | 31.8.1987 | 20.10.1988 | stricken 12.2005, to Singapore (Archer) |
| Södermanland | Söd | 591/415 | Kockums, Malmö + Karlskronavarvet, Karlskrona | 2.2.1985 | 12.4.1988 | 21.4.1989 | in service (2019) |
| Östergötland | Ögd | 592/416 | Kockums, Malmö + Karlskronavarvet, Karlskrona | 15.10.1985 | 9.12.1988 | 10.1.1990 | in service (2019) |
Technical data
| | |
| --- | --- |
| Displacement standard, t | 990 |
| Displacement normal, t | 1070 / 1143 |
| Length, m | 48.5 |
| Breadth, m | 6.06 |
| Draught, m | 5.60 |
| No of shafts | 1 |
| Machinery | 2 Hedemora V12A/15-Ub diesel-generators, 1 ASEA electric motor |
| Power, h. p. | 2160 / 1800 |
| Max speed, kts | 11 / 20 |
| Fuel, t | diesel oil |
| Endurance, nm(kts) |   |
| Armament | 6 - 533 TT (bow, 12 Tp 61B or Tp 613 or Tp 62), 3 - 400 TT (bow, 6 Tp 422 or Tp 45), 22 mines |
| Electronic equipment | Terma radar, CSU-83 sonar suite (DBQS-21, FAS-3-1, towed array), AR-700-S5 ECM suite, SESUB 900A CCS |
| Complement | 20 |
| Diving depth operational, m | 300 |
Standard scale images

Västergötland 1990
Graphics
Project history
Type A 17 attack submarines. Replacements for Draken class. Designed by Kockums, Malmo, and ordered in 1981, with Kockums building the mid-section of the hulls and Karlskronavarvet building the bows and sterns. All TT are bow-mounted, with the six 533mm tubes above the three 400mm tubes. Can carry up to 22 mines in externally-mounted containers. Plans to equip these boats with four SSM vertical launch rubes in the sail have been abandoned. Anechoic hull coating.
Modernizations 7.
2004, Södermanland; 1.2005, Östergötland: modernized with Stirling AIP system (1500/1600t, 60.5x6.10x5.60m, additionally to main machinery 2 Stirling Mk 3 AIP generators, 200hp, endurance submerged can be 19 days, complement 28); - AR-700-S5 ECM suite; + Subac sonar, CS-3701 ECM suite

2009, Södermanland; 2010, Östergötland: - SESUB 900A CCS; + SESUB 960A CCS
Naval service
No significant events.