Photo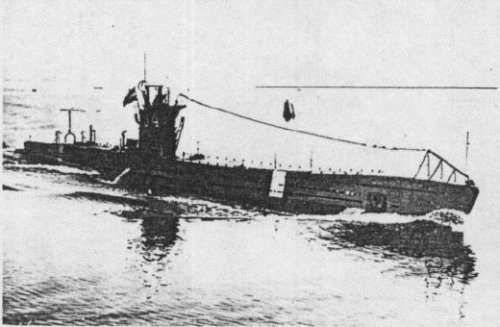 U4 1944
Ships
| Name | No | Yard No | Builder | Laid down | Launched | Comp | Fate |
| --- | --- | --- | --- | --- | --- | --- | --- |
| U1 | U1 | 234 | Kockums, Malmö | 1940 | 14.6.1941 | 5.1942 | stricken 7.1960 |
| U2 | U2 | 308 | Örlogsvarvet Karlskrona | 1940 | 16.5.1942 | 3.1943 | stricken 12.1961 |
| U3 | U3 | 309 | Örlogsvarvet Karlskrona | 1940 | 11.6.1942 | 11.1943 | stricken 11.1964 |
| U4, 1964- Forellen | U4, 1964- For | 266 | Kockums, Malmö | 1943 | 5.6.1943 | 4.1944 | stricken 7.1970 |
| U5, 1964- Abborren | U5, 1964- Abb | 267 | Kockums, Malmö | 1943 | 8.7.1943 | 6.1944 | stricken 7.1976 |
| U6, 1964- Siken | U6, 1964- Sik | 268 | Kockums, Malmö | 1943 | 18.8.1943 | 7.1944 | stricken 7.1974 |
| U7, 1964- Gäddan | U7, 1964- Gäd | 269 | Kockums, Malmö | 1943 | 25.11.1943 | 9.1944 | stricken 7.1973 |
| U8, 1964- Laxen | U8, 1964- La, Lax | 310 | Örlogsvarvet Karlskrona | 1943 | 25.4.1944 | 10.1944 | stricken 7.1976 |
| U9, 1964- Makrillen | U9, 1964- Ma, Mak | 311 | Örlogsvarvet Karlskrona | 1943 | 23.5.1944 | 11.1944 | stricken 7.1976 |
Technical data
| | |
| --- | --- |
| Displacement standard, t | 367 |
| Displacement normal, t | / 450 |
| Length, m | 49.6 |
| Breadth, m | 4.70 |
| Draught, m | 3.80 |
| No of shafts | 2 |
| Machinery | 1 MAN diesel-generator / 2 electric motors |
| Power, h. p. | 1350 / |
| Max speed, kts | 13.8 / 7.5 |
| Fuel, t | diesel oil |
| Endurance, nm(kts) |   |
| Armament | 1 x 1 - 20/63 K/66 M40, 4 - 533 TT (3 bow, 1 stern, 8) |
| Electronic equipment | hydrophone |
| Complement | 23 |
| Diving depth operational, m | 60? |
Standard scale images

U5 1954

Abborren 1965
Graphics
Project history
Submarines of smaller, in comparison with the predecessors, displacement. The decision on their building was accepted right after the Second World War beginnings. First of all they were intended for coast defence in case of landing of one of belligerent parties. Their construction was whenever possible simplified for acceleration and reduction in price of building. Unique Swedish single-hulled submarines (others were double-hulled). The so-called "American" machinery scheme became other difference of these submarines: diesel worked on the generator which, in turn, charged battery or gave a current on two main electric motors.
Modernizations
1962, U4, U5; 1963, U7, U9; 1964, U6, U8: - 1 x 1 - 20/66, 1 - 533 TT (stern); + radar, sonar; CT was streamlined (submerged speed increased to 9kts), displacement became 430/460t; 2 MAN diesel-generators/ 2 electric motors, 1500/750hp, 14/9kts.
Naval service
no significant events.