NAVYPEDIA Support the project with paypal
Photo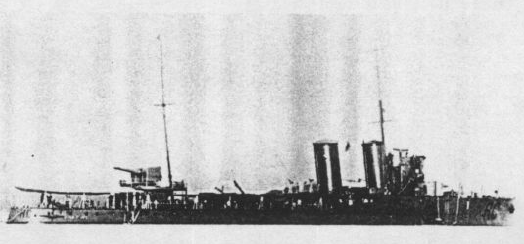 Bettino Ricasoli 1926
Ships
| Name | No | Yard No | Builder | Laid down | Launched | Comp | Fate |
| --- | --- | --- | --- | --- | --- | --- | --- |
| Psilander (ex-Giovanni Nicotera) | 18 |   | Pattison, Naples, Italy | 1925 | 24.6.1926 | 1.1927 // 3.1940 | stricken 6.1947 |
| Puke (ex-Bettino Ricasoli) | 19 |   | Pattison, Naples, Italy | 1925 | 29.1.1926 | 10.1926 // 3.1940 | stricken 6.1947 |
Technical data
| | |
| --- | --- |
| Displacement standard, t | 1140 |
| Displacement full, t | 1480 |
| Length, m | 82.5 pp 84.9 oa |
| Breadth, m | 8.60 |
| Draught, m | 3.60 max |
| No of shafts | 2 |
| Machinery | 2 sets Parsons geared steam turbines, 3 Thornycroft boilers |
| Power, h. p. | 36000 |
| Max speed, kts | 35 |
| Fuel, t | oil 259 |
| Endurance, nm(kts) | 1800(14) |
| Armament | 2 x 2 - 120/45 OTO 1926, 2 x 1 - 40/39 Vickers-Terni 1917, 2 x 2 - 13.2/76, 2 x 2 - 533 TT, 2 DCT, 32 mines |
| Complement | 125 |
Standard scale images

Puke 1942
Graphics
Project history
Former Italian Sella class destroyers were bought by Sweden 27.3.1940. Already on April, 18th the ships leaved Naples, but movement was realised very slowly, and when Italy entered war they were still off Faeroe Islands. British have immediately captured destroyers and Swedes received the gained ships after two months of negociations.
Modernizations
early 1940s, both: - 2 x 1 - 40/39; + 2 x 1 - 40/56 K/60 M32
Naval service
No significant events.
© 2007-2022 - navypedia.org