Photo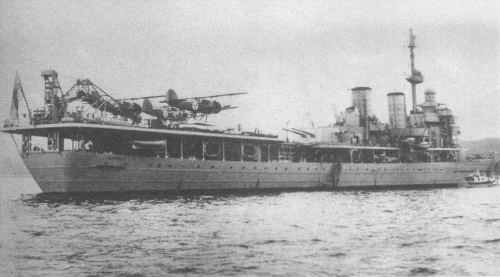 Gotland
Ships
| Name | No | Yard No | Builder | Laid down | Launched | Comp | Fate |
| --- | --- | --- | --- | --- | --- | --- | --- |
| Gotland |   | 935 | Lindholmen, Göteborg // Götaverken, Göteborg | 1930 | 14.9.1933 | 14.12.1934 | stricken 7.1960 |
Technical data
| | |
| --- | --- |
| Displacement standard, t | 4750 |
| Displacement full, t | 5550 |
| Length, m | 130.0 wl 134.8 oa |
| Breadth, m | 15.4 |
| Draught, m | 4.50 mean 5.50 max |
| No of shafts | 2 |
| Machinery | 2 sets De Laval geared steam turbines, 4 Penhoët boilers |
| Power, h. p. | 33000 |
| Max speed, kts | 27.5 |
| Fuel, t | oil 800 |
| Endurance, nm(kts) | 4000(12) |
| Armour, mm | belt: 24 - 15, deck: 25, turrets: 25, CT: 19 |
| Armament | 2 x 2 - 152/53 K/55 M30, 2 x 1 - 152/53 K/55 M30, 1 x 2 - 75/56 K/60 M28, 2 x 1 - 75/56 K/60 M28, 4 x 1 - 25/55 K/58 M32, 2 x 3 - 533 TT, 100 mines, 1 catapult, 8 seaplanes (Osprey) |
| Complement | 467 - 480 |
Standard scale images

Gotland 1954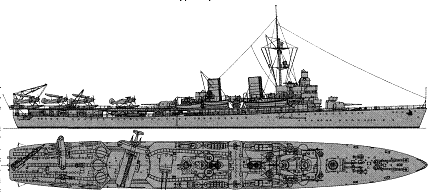 Gotland 1940
Graphics
Project history
Chief staff of the Swedish navy has come to idea of designing special aircraft carrying ship after manoeuvres in 1925. As a first step in this direction old coast defence ship Dristigheten was rebuilt as seaplane tender. Simultaneously designing of 4500ts 27kts aircraft carrying cruiser according to the first studies has begun. Ship would have six 152mm guns in single mounts and 12 seaplanes stored in a hangar. In January, 1927 the requirement of Naval council were little changed to more multipurpose design of new ship: now 152mm guns would been arranged in twin turrets, AA armament would been strengthened and 2 triple 533mm TT installed. In compensation of new requirements designers may to refuse a hangar (seaplanes were stored openly on a deck), displacement can rose to 4800ts. Gotland was ordered 7.6.1930.

Universal purpose of the ship has left traces on its appearance: the aft third of hull length was assigned to aviation: a storage platform of seaplanes over an upper deck, a trainable catapult (primarily two assumed but finally it was limited by one) and the crane for handling seaplanes. The crane was positioned in the stern, and the catapult was closer to amidships part directly behind aft main turret. Platform had special railway lines for transportation of aircrafts from the crane to a catapult. The regular air group included 12 units by the design, but by the moment of commission of a cruiser it was shrunk to eight, and actually never more than six planes were on board. Mine rails were under a hinged aviation platform on upper deck.

The artillery and torpedo armament were concentrated amidships. Twin 152mm turrets, in comparison with an original design, were shrunk from three to two basically on financial reasons: as the length of the hull and, as consequence, its price in this case increased. To store the general number of main guns designers have returned to archaic casemate arrangement: 152mm guns from liquidated third turret were transferred to the casemates arranged on each side of a fwd superstructure. These guns had twice a smaller elevation angle in comparison with turrets (30° against 60°) and a smaller firing range. Triple TT mounts were arranged aside second funnel.

Machinery has been whenever possible unified with Göteborg class destroyers, the main difference consisted in increased to four boiler number and, accordingly, increased steam outputs. Engine and boiler rooms were placed en echelon.

The limited sizes of Gotland and extensive nomenclature of arms have not allowed to ensure to the ship some serious protection, it was necessary to be limited splinterproof.
Protection
24 - 15mm belt was closed by flat 25mm deck.
Modernizations
1938: + 1 x 2 - 25/55 K/58 M32

(1943-4/1944): all aircraft armament was removed (- 1 catapult, 6 seaplanes); + 4 x 2 - 40/56 K/60 M32, 2 x 2 - 20/63 K/66 M40

1953: - 2 x 1 - 152/53, 1 x 2 - 75/56, 2 x 1 - 75/56, 4 x 2 - 40/60, 1 x 2 - 25/55; + 4 x 2 - 40/70 M48, 5 x 1 - 40/70 M48, radars
Naval service
No significant events.



Many thanks to Wolfgang Stöhr for additional information on this page.