Photo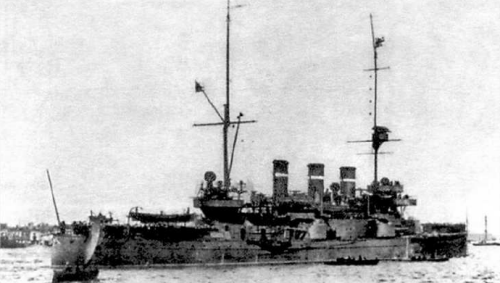 Oscar II 1907
Ships
| Name | No | Yard No | Builder | Laid down | Launched | Comp | Fate |
| --- | --- | --- | --- | --- | --- | --- | --- |
| Oscar II |   | 384 | Lindholmen, Göteborg | 29.3.1903 | 6.6.1905 | 4.1907 | school hulk 2.1950 |
Technical data
| | |
| --- | --- |
| Displacement normal, t | 4273 |
| Displacement full, t | 4584 |
| Length, m | 95.6 wl |
| Breadth, m | 15.4 |
| Draught, m | 5.49 max |
| No of shafts | 2 |
| Machinery | 2 VTE, 10 Yarrow boilers |
| Power, h. p. | 9400 |
| Max speed, kts | 18 |
| Fuel, t | coal 500 |
| Endurance, nm(kts) | 2950(10) |
| Armour, mm | belt: 150, upper belt: 100, main turrets: 190 - 130, main barbettes: 175, secondary turrets: 125, CT: 157, deck: 50 - 37 |
| Armament | 2 x 1 - 209/43 K/44 M1898, 4 x 2 - 152/49 K/50 M1903, 10 x 1 - 57/50 K/55 M1889B, 3 x 1 - 37/34 K/37 M1898, 2 - 450 TT (beam) |
| Complement | 331 |
Standard scale images

Oscar II 1940
Graphics
Project history
The only world`s three-funnel coast defence battleship. Initial plans provided that Oscar II will be built under Äran design with minor alterations, however parliament in 1901 devoted to assignment for a construction of the new ship, wishes to re-design the project towards increasing auxiliary artillery, armour and speed. Preparing of the new design and the subsequent coordination proceeded almost two years: only in May, 1903 the king of Sweden Oscar II has approved drawings of the new ship received his name. Structurally Oscar II was modernized Äran. For the account of the increased size and insignificant decrease in a thickness of the side protection machinery power raised in twice, that has allowed to increase speed to 18.5kts.
Protection
The lightening of armour protection was partly indemnified by belt extension in a bow and a stern (the thickness at ship ends decreased to 100mm). Short (only 23m) 100mm upper belt covered amunition hoists of 152mm and 57mm guns and funnel uptakes. Main deck was connected by lower end of main belt by slopes, this deck had turtleback form outside citadel.
Modernizations
1911: new tripod fore mast with director was installed.

1916: - 2 x 1 - 57/50; + 2 x 1 - 57/50 K/55 M89B AA

1938 - 1939: boilers were replaced by new ones including two oil-burning (3550(11)nm), main mast was removed; - 10 x 1 - 57/50, 2 - 450 TT; + 2 x 2 - 75/56 K/60 M1928, 1 x 2 - 25/55 K/58 M1932, 2 x 2 - 8.80, full displacement was 4850ts.
Naval service
Oscar II was stricken in 1950 but served as hulk until 1974.