Photo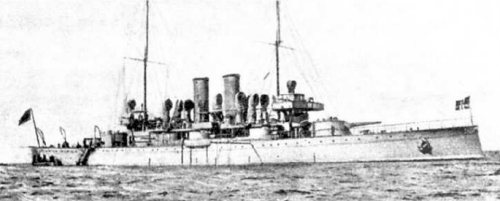 Manligheten 1904
Ships
| Name | No | Yard No | Builder | Laid down | Launched | Comp | Fate |
| --- | --- | --- | --- | --- | --- | --- | --- |
| Äran |   | 373 | Lindholmen, Göteborg | 1899 | 14.8.1901 | 7.9.1902 | stricken 6.1947 |
| Wasa |   |   | Bergsund, Stockholm | 11.1899 | 29.5.1901 | 6.12.1902 | stricken 3.1940 |
| Tapperheten |   | 85 | Kockums, Malmö | 11.1899 | 7.11.1901 | 4.1903 | stricken 6.1947 |
| Manligheten |   | 86 | Kockums, Malmö | 12.1901 | 1.12.1903 | 3.12.1904 | stricken 2.1950 |
Technical data
| | |
| --- | --- |
| Displacement normal, t | 3650 |
| Displacement full, t | 3735 |
| Length, m | 87.5 wl 89.7 oa |
| Breadth, m | 15.0 |
| Draught, m | 5.00 max |
| No of shafts | 2 |
| Machinery | 2 VTE, 8 Yarrow boilers |
| Power, h. p. | 6500 |
| Max speed, kts | 17 |
| Fuel, t | coal 370 |
| Endurance, nm(kts) | 3000(12) |
| Armour, mm | belt: 175, main turrets: 190 - 140, main barbettes: 190, secondary turrets:  125 - 60, secondary barbettes: 100, CT: 200, deck: 48 |
| Armament | 2 x 1 - 209/43 K/44 M1898, 6 x 1 - 152/43 K/44 M1898, 10 x 1 - 57/50 K/55 M1889B, 2 x 1 - 37/34 K/37 M1898, 2 - 450 TT (beam) |
| Complement | 275 |
Standard scale images

Manligheten 1942

Äran 1940
Graphics
Project history
Further development of Dristigheten. Secondary guns were placed in turrets instead of casemates of prototype, armour plating area was increased.
Protection
175mm belt protected 50m amidships part and was 1.78m in height. Main deck was connected by its lower end by slopes, this deck had turtleback form outside citadel.
Modernizations
1906-1910, all: new tripod fore mast with director was installed.

mid-1930s, Manligheten: 2 boilers were converted to oil.

early 1940, Äran, Tapperheten: - 10 x 1 - 57/50, 2 - 450 TT; + 4 x 1 - 57/50 K/55 1889B AA, 2 x 1 - 25/55 K/58 M1932

1941, Äran: fore superstrucure was moved astern, 57mm guns were moved one deck lower; + 2 x 1 - 40/56 K/60 M1932, 2 x 2 - 8.80

1941, Manligheten: stem was rebuilt with cruiser bow, length wl was raised to 90.2m, fore superstructure was rebuilt and moved astern, main guns and directors were also modernized, boilers were replaced by new ones, main mast was removed; + 4 x 1 - 57/50 K/55 1889B AA, 4 x 1 - 40/56 K/60 M1932, 2 x 1 - 25/55 K/58 M1932
Naval service
Tapperheten ran aground in January 1914, cost of salvage operations n January - July has made third of cost of a building of the ship. Wasa was laid up in 1924, Tappereheten in 1927 and Manligheten in 1933. Äran was found in 1939 in very poor condition and stricken next year, Äran and Tapperheten returned to active service after repair late 1939 - early 1940. Manligheten was damaged by exploding of German mine defender in the autumn 1939, but served one more year and was repaired and modernized from late 1940. Äran was used as barrack ship from 1942.