Photo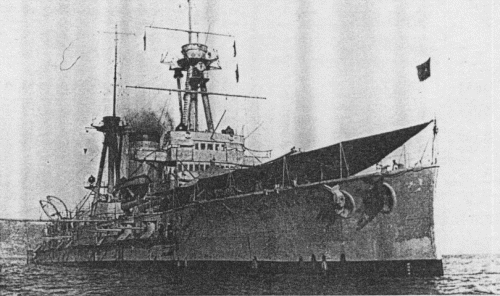 Jaime I
Ships
| Name | No | Yard No | Builder | Laid down | Launched | Comp | Fate |
| --- | --- | --- | --- | --- | --- | --- | --- |
| España |   |   | SECN, El Ferrol | 6.12.1909 | 5.2.1912 | 23.10.1913 | wrecked 26.8.1923 |
| Alfonso XIII, 4.1931- España |   |   | SECN, El Ferrol | 23.2.1910 | 7.5.1913 | 16.8.1915 | mined 30.4.1937 |
| Jaime I |   |   | SECN, El Ferrol | 5.2.1912 | 21.9.1914 | 20.12.1921 | lost 17.6.1937 |
Technical data
| | |
| --- | --- |
| Displacement normal, t | 15452 |
| Displacement full, t | 15700 |
| Length, m | 132.5 wl 139.9 oa |
| Breadth, m | 24.0 |
| Draught, m | 7.80 max |
| No of shafts | 4 |
| Machinery | 4 Parsons steam turbines, 12 Yarrow boilers |
| Power, h. p. | 15500 |
| Max speed, kts | 19.5 |
| Fuel, t | coal 1900 + oil 20 |
| Endurance, nm(kts) | 5000(10) |
| Armour, mm | belt: 230 - 125, upper belt: 150, barbettes: 250 - 140, turrets: 234 - 75, casemates: 75, deck: 40 + (50 - 25) with 30mm slopes, CT: 250, aft CT: 150, anti-torpedo bulkheads: 38 |
| Armament | 4 x 2 - 305/50 Vickers H, 20 x 1 - 102/50 Vickers E, 4 x 1 - 47/50 Vickers, 2 x 1 - 7.7/87 |
| Complement | 854 |
Standard scale images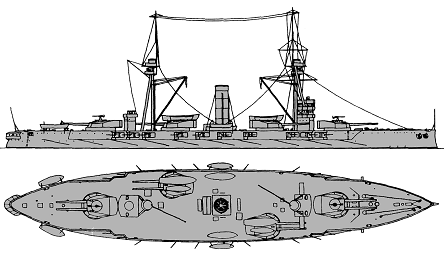 España 1914

Jaime I 1936

España 1937

Jaime I 1937
Graphics
Project history
Most compact dreadnoughts in the world; their dimensions were defined by the sizes of existing docks. Though battle characteristics of these ships were much more low, than at battleships of other countries, as a whole the design has appeared quite good, especially by criterion "cost/efficiency".

Built under the law from 7.1.1908 under the design developed with assistance of Vickers. Building of Jaime I was strongly delayed in absence of deliveries of armour and armament from Great Britain in the First World War. Main guns were in four turrets, amidships turrets were placed diagonally, that did for one of these turrets practically impossible shooting on an opposite side. Owing to the limited displacement battleships possessed rather weak armour protection and unsatisfactory anti-torpedo protection and damage tolerance. Parsons turbines and Yarrow boilers were made in Spain under licence and took places in two boiler and two engine rooms. On trials Jaime I reached 20.03kts at 23357hp, Alfonso XIII shown 20.36kts.
Ship protection
The main belt (2-2.2m in height) had 230mm thickness, tapering to lower edge to 125mm. Upper belts had 150mm and 75mm thickness. At fore and aft ends belt had 102mm thickness, decreasing to 75mm near a stem. Fwd and aft transverse bulkheads were 250mm. Barbettes of turrets had only 140mm thickness, thus starboardside turret barbette was "pear-shaped" and adjoined directly with a main belt, not having in this area own armour protection. Upper deck consisted of two 20mm steel layers, main armoured deck had 25mm thickness amidships, 40mm at fwd part and 50mm at aft part, there were 30mm slopes. Underwater protection was been actually presented by only 38mm longitudinal bulkheads which besides have not been stiffened from below. The armour was supplied by Vickers and Armstrong.
Modernizations
1920s, all: - 4 x 1 - 47/50, 2 x 1 - 7.7/87; + 2 x 1 - 76/34 Vickers FF

8/1936, España: had operable only 2 x 2 - 305/50 Vickers H (turrets Nos1 and 4), 12 x 1 - 102/50 Vickers E

9/1936, España: - 8 x 1 - 102/50

10/1936, España: one more 305/50mm gun was operable (in turret No3), + 4 x 1 - 88/42 SK L/45 C/13, 2 x 1 - 20/65 C/30

10/1936, Jaime I: - 4 x 1 - 102/50

late 1936, Jaime I: + 2 x 1 - 47/50 Vickers, 1 x 2 - 25/60 M1933

1937, Jaime I: + 4? x 2 - 13.2/76
Naval service
Lead España was lost on rocks off Cape Tres at Morocco coast 26.8.1923, after revolution of 1931 her name 17.4.1931 was transferred to the second sister-ship. By 1936 both survived battleships actually lost battle value. España since 1931 was in a reserve at El Ferrol where she was captured by troops of Nationalists 22.7.1936. She was commissioned by National fleet 12.8.1936, thus only No1 and 4 turrets and 12 102mm guns were operable. España was lost off Cape Penas at Santander 30.4.1937 on a mine laid by Nationalists minelayer Jupiter. Jaime I in 1936 was in bad technical condition. 20.7.1936 she was taken under the control of Republic. At Almeria 24.5.1937 she was damaged by two 250kg air bombs and was transferred to Cartagena for repair. Jaime I was lost at Cartagena 17.6.1937 as result of internal explosion owing to as it is considered, crew negligence.