NAVYPEDIA Support the project with paypal
Photo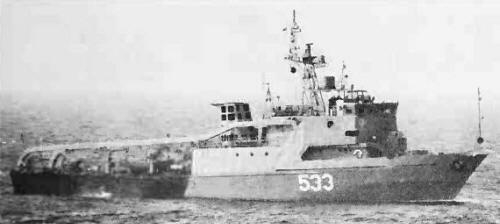 Komsomolets Estonii 1984
Ships
| Name | No | Yard No | Builder | Laid down | Launched | Comp | Fate |
| --- | --- | --- | --- | --- | --- | --- | --- |
| БТ-177 [BT-177], 3.1975- Алтайский комсомолец [Altayskiy Komsomolets], 2.1992- БТ-177 [BT-177] |   | 516 | Sredne-Nevskiy SYd, Pontonnyy |   |   | 1.12.1974 | stricken 6.1993 |
| БТ-137 [BT-137], 6.1975- Комсомолец Эстонии [Komsomolets Estonii], 2.1992- БТ-137 [BT-137] |   | 517 | Sredne-Nevskiy SYd, Pontonnyy |   |   | 1.12.1974 | stricken 6.1993 |
Technical data
| | |
| --- | --- |
| Displacement standard, t | 386 |
| Displacement full, t | 473 |
| Length, m | 47.9 |
| Breadth, m | 8.70 |
| Draught, m | 2.36 hull 4.20 max |
| No of shafts | 3 |
| Machinery | 2 M504A-3 diesels + 1 M-8NL gas turbine |
| Power, h. p. | 9500 + 20000 = 29500 |
| Max speed, kts | 38 |
| Fuel, t | diesel oil |
| Endurance, nm(kts) | 500(15) |
| Armament | 1 x 6 - 30/54 AK-306, 4 - 8 mines |
| Electronic equipment | Rym, Don-D radars, RTU-2V remote control equipment |
| Complement | 20 |
Standard scale images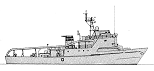 Altayskiy Komsomolets 1990
Graphics
Project history
These ships were conceived to escort larger ships through mined waters, dealing with mines with combination (pressure, acoustic, magnetic) fuzes. The unusually high power was intended to allow them to move at high speed to create a turbulent wake which would trigger pressure mines. In theory, the sweeper would first sweep for magnetic and acoustic mines, then escort ships in the hydrodynamic field of its own wake, manoeuvering to distort the pressure fields of the ships so as not to trigger the mines. Alternatively, the sweeper could create very strong fields of its own, to trigger mines beyond ranges at which they would be lethal. Hence the solenoid coils which were partly visible on the ship's side. Machinery noise could be amplified to trigger acoustic mines. Because there was always a change that a triggered mine would destroy the sweeper, remote-control gear was installed.

They had plastic hulls, and large cable ducts running down both sides A prominent stack served a gas turbine generator, the propulsion diesels exhausting through the hull sides.
Modernizations
1985, BT-177: diesels were replaced by 2 M504A-4 (9900hp)
Naval service
No significant events.
© 2007-2022 - navypedia.org