Photo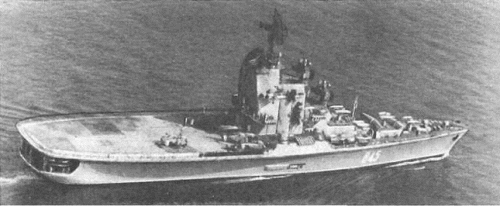 Leningrad
Ships
| Name | No | Yard No | Builder | Laid down | Launched | Comm | Fate |
| --- | --- | --- | --- | --- | --- | --- | --- |
| Москва [Moskva], 5.1995- ПКР-108 [PKR-108] |   | 701 | Black Sea Yd, Nikolayev | 15.12.1962 | 14.1.1965 | 25.12.1967 | stricken 7.1996 |
| Ленинград [Leningrad] |   | 702 | Black Sea Yd, Nikolayev | 15.1.1965 | 31.7.1967 | 2.6.1969 | stricken 6.1991 |
Technical data
| | |
| --- | --- |
| Displacement standard, t | 11920 |
| Displacement full, t | 15280 |
| Length, m | 189.0 |
| Breadth, m | 34.0 |
| Draught, m | 7.70 |
| No of shafts | 2 |
| Machinery | 2 TV-12 geared steam turbines sets, 4 KVN-98/64 boilers |
| Power, h. p. | 90000 |
| Max speed, kts | 28.5 |
| Fuel, t | oil |
| Endurance, nm(kts) | 6000(18) |
| Armament | 2 x 2 M-11 Shtorm SAM (96 V-611(4K60)), 1 x 2 RPK-1 Vyuga ASuM (8 82R), 2 x 2 - 57/50 AK-725, 2 x 5 - 533 TT, 2 x 12 RBU-6000 Smerch-2 ASWRL, 14 helicopters (12 Ka-25, 1 Ka-25PS, 1 Ka-25Ts) |
| Electronic equipment | MR-600 Voskhod, MR-310 Angara-A, Don, 2x Grom-M, 2x MR-103 Bars-72 radars, MG-342 Orion, MG-325 Vega sonars, Gurzuf, Gurzuf-1, MRP-15-16 Zaliv ECM suites, 2x PK-2 decoy launchers, MVU-201 Koren'-1123 CCS |
| Complement | 700 |
Standard scale images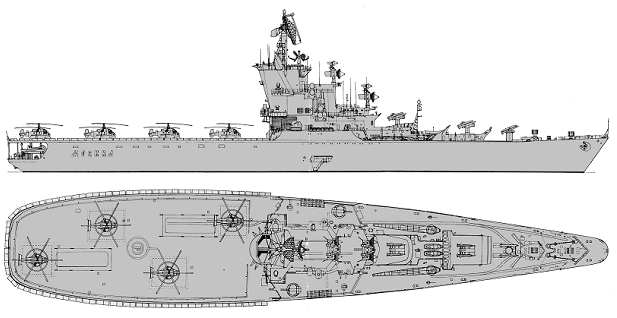 Moskva 1974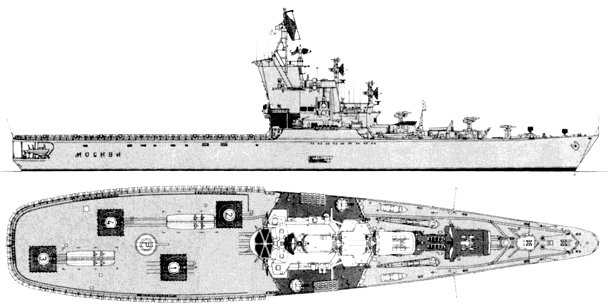 Moskva 1990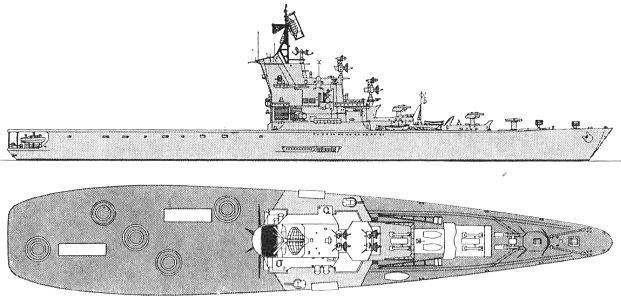 Moskva 1979
Graphics
Project history
These two ships were designed specifically to counter Polaris submarines. According to a recent Russian account, naval staff studies showed that this mission required sea-based aircraft (helicopters) capable of searching large areas for a sustained period. Any submarines that were found would have to be dealt with by accompanying ships. This was not too different from the contemporary US CVS concept. Indeed, at just about the same time (1959) the US Navy was interested in building what it called a 'patrol escort' (PE), specifically to trail missile submarines off the US coast. The Soviet requirement, to maintain two helicopters continuously airborne on patrol, was matched by the US requirement. In both cases, the hope seems to have been to minimize ship size, providing just enough for helicopters and their reliefs (in the Soviet case, a total of eight).

Admiral Gorshkov approved the ship's operational requirement on 31 January 1959: it was to search for and destroy SSBNs and multi-purpose submarines in distant ASW zones as part of a ship search-strike force and in cooperation with other ships and ASW aircraft. The cruiser-design bureau (TsKB-17) offered two alternatives: a modified Sverdlov hull (several incomplete hulls still existed) and a small carrier. Although Defence Minister Malinovskry approved both, only the small carrier was pursued. As is typical of staff requirements, Gorshkov wanted the smallest possible hull to accommodate the eight helicopters. The design bureau (TsKB 17) argued that, since the helicopers would not be able to operate in bad weather, the ship has also to have an all-weather ASW weapon system: a long-range sonar supporting an ASW missile system, as well as torpedoes and ASW rockets (RBUs). The bureau also wanted a self-defence missile system. The naval staff agreed, and the helicopter complement rose to 10-14. Admiral Gorshkov approved the revised design specification on 21 January 1960. The chief of the Navy Main Shipbuilding Directorate emphasized the need to hold standard displacement down to 7000-8000t One way to do that might have been to work up from a destroyer rather than down from a cruiser. The destroyer design bureau (TsKB-53) was therefore asked for an alternate design. TsKB-17 itself tried eight alterantives, including a catamaran and an aluminium-magnesium hull; it soon concluded that only by using gas turbines (as yet untried) could the displacement limit be met in a steel hull. The navy turned down the exotic alternatives (and TsKB-53s design), opting for an 8500t vessel with pressure-fired boilers (the Project 58 powerplant). On this basis the preliminary design was approved on 1.12.1960. Additional studies were still required. The designers considered using new helicopters (which could operate in Sea State 6), reducing the crew to 300-350, cutting habitability to submarine or destroyer standards, and other economics. Thus in addition to the original eight, sixteen more variants were developed, the twenty-third (9300t) being approved in March 1961. This was the first Soviet ship designed to operate a group of helicopters. In 1961 the air force announced that it would not provide the necessary technical advice, so the designers had to rely on the OKB designing the helicopters (Kamov's OKB-938). Worse, as the contract design approached completion, the air force announced that the chosen helicopter, the Ka-25, would not be adequate; a special expert commission had to be formed to decide the issue. By mid-1962 it seemed that the ship could be built on 9000t (29kts, 370 men). However, the navy's studies group wanted thirty-one more men. When the staff reviewed manning, it decided that the ship needed far more. Full three-shift manning during a prolonged patrol would require 497 men (which was cut to 415 by review). The contract design was approved on 25 January 1962. That did not end the process. The helicopter complement increased to fourteen (Ka-25 and Mi-14 ASW helicopters), radio equipment was changed, sea-keeping was improved (for operation in Sea States 6-7). It turned out that the hangar had to be expanded by 81% (a second hangar for two helicopters had to be provided on the upper deck), and the flight deck area had to be increased by 77%. Displacement grew to 10000t and then to 10750t; designs speed dropped to 28.5kts. Meanwhile, Polaris range increased. During a 1962 summer visit to the Northern Fleet Khrushchev decided that the endurance (in time) and the range of surface combatants should be considerably increased. That meant more AAW weapons capacity and, as it turned out, a new radar (presumably Voskhod). Another twenty-six versions of the design were developed. Final figures were standard displacement 11300t, design speed 29kts (using a more powerful version of the Project 58 plant), range 6000nm at 18kt, and crew 541. The design was greatly complicated by the number of experimental and prototype weapons, many of them still in development, incorporated in it. These ships introduced a new low-frequency sonar in a massive (21x6.5x9m) retractable keel dome, the first Soviet VDS, a new SAM, and a new ASW weapon. As completed, the ships generally trimmed by the bow, suggesting that weights forward were incorrectly estimated.

Main hangar was 50x22x5.8m, there were 2 elevators. There was also additional small hangar in the superstructure.
Modernizations
1975, both: - 2 x 5 - 533 TT
Naval service
Moskva was badly damaged by fire in the engine room 2.2.1975 and was under repair till 1976.