NAVYPEDIA
Photo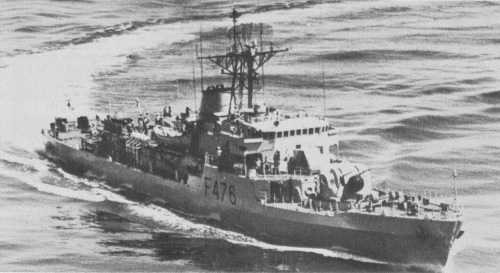 Jacinto Cândido 1978
Ships
| Name | No | Yard No | Builder | Laid down | Launched | Comp | Fate |
| --- | --- | --- | --- | --- | --- | --- | --- |
| António Enes | F471 |   | Bazán, Cartagena, Spain | 10.4.1968 | 16.8.1969 | 18.6.1971 | stricken 2015 |
| João Coutinho | F475 |   | Blohm & Voss, Hamburg, Germany | 24.12.1968 | 2.5.1969 | 7.3.1970 | stricken 8.2014 |
| Jacinto Cândido | F476 |   | Blohm & Voss, Hamburg, Germany | 10.2.1968 | 16.6.1969 | 10.6.1970 | stricken 2015 |
| General Pereira d'Eça | F477 |   | Blohm & Voss, Hamburg, Germany | 21.4.1969 | 26.7.1969 | 10.10.1970 | retired 2009 |
| Augusto Castilho | F478 |   | Bazán, Cartagena, Spain | 15.10.1968 | 5.7.1969 | 14.11.1970 | retired 2004 |
| Honório Barreto | F485 |   | Bazán, Cartagena, Spain | 20.2.1968 | 11.4.1970 | 15.4.1971 | retired 2003 |
Technical data
| | |
| --- | --- |
| Displacement standard, t | 1252 |
| Displacement full, t | 1401 |
| Length, m | 81.00 pp 84.6 oa |
| Breadth, m | 10.3 |
| Draught, m | 3.30 |
| No of shafts | 2 |
| Machinery | 2 OEW-Pielstick 12PC2 V280 diesels |
| Power, h. p. | 10560 |
| Max speed, kts | 24.4 |
| Fuel, t | diesel oil |
| Endurance, nm(kts) | 5000(18) |
| Armament | 1 x 2 - 76/50 Mk 33, 1 x 2 - 40/60 Mk 1, 1 x 24 - 178 Hedgehog Mk 10 ASWRL, 2 DCT, 2 DCR, helicopter deck for light helicopter |
| Military load | 34 marines |
| Electronic equipment | MLA-1B, Decca TM626, SPG-34 radars, QCU-2 sonar |
| Complement | 93 |
Standard scale images

João Coutinho 1975
Graphics
Project history
Design of Blohm & Voss. They were relatively cheap ad sparsely equipped light frigates, which could be acquired by Portugal in sufficient numbers to replace the old second-class sloops, corvettes and gunboats. Their chief function until 1975 was patrolling off Portuguese colonies.
Modernizations
1987, all: - 1 x 24 - 178 Hedgehog ASWRL, 2 DCT, 2 DCR, MLA-1B, Decca TM626 radars, QCU-2 sonar; + Kelvin-Hughes surface search radar, Decca RM1226C radar

1994, all: - SPG-34 radar
Naval service
No significant events.
© 2007-2021 - navypedia.org