Photo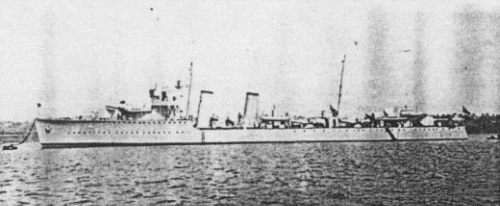 Vouga 1933
Ships
| Name | No | Yard No | Builder | Laid down | Launched | Comp | Fate |
| --- | --- | --- | --- | --- | --- | --- | --- |
| Dão | D, 1956- D331 |   | Estaleiro Real de Lisboa |   | 30.7.1934 | 1.1935 | stricken 11.1960 |
| Douro |   |   | Estaleiro Real de Lisboa |   | 9.6.1932 | 1934 // --- | incomplete to Colombia 1934 (Antioquia) |
| Douro | DR, 1956- D332 |   | Estaleiro Real de Lisboa |   | 15.8.1934 | 2.1936 | stricken 12.1959 |
| Lima | L, 1956- D333 |   | Yarrow, Scotstoun, UK |   | 29.5.1933 | 10.1933 | stricken 10.1965 |
| Tejo |   |   | Estaleiro Real de Lisboa |   | 9.6.1932 | 1934 // --- | incomplete to Colombia 1934 (Caldas) |
| Vouga | V, 1956- D334 |   | Yarrow, Scotstoun, UK |   | 25.1.1933 | 6.1933 | stricken 6.1967 |
| Tejo | T, 1956- D335 |   | Estaleiro Real de Lisboa |   | 4.5.1935 | 10.1935 | stricken 2.1965 |
Technical data
| | |
| --- | --- |
| Displacement standard, t | 1219 |
| Displacement full, t | 1563 |
| Length, m | 93.6 pp 98.5 oa |
| Breadth, m | 9.45 |
| Draught, m | 3.35 |
| No of shafts | 2 |
| Machinery | 2 sets Parsons geared steam turbines, 3 Yarrow boilers |
| Power, h. p. | 33000 |
| Max speed, kts | 36 |
| Fuel, t | oil 345 |
| Endurance, nm(kts) | 3500(15) |
| Armament | 4 x 1 - 120/50 Vickers Mk G, 3 x 1 - 40/39 QF Mk VIII, 2 x 4 - 533 TT, 20 mines, 2 DCR (12) |
| Electronic equipment | presumably hydrophone |
| Complement | 127 |
Standard scale images

Vouga 1933

Vouga 1960
Graphics
Project history
Designed by Yarrow on a basis of British destroyer Ambuscade. From British prototype they differed by main guns: on Portuguese destroyers there were Vickers-Armstrong Mk G 120mm/50 guns with separated loading and box-shaped shields. AA armament was comprised by three 40mm/39 pompoms in single mounts with 85° max elevation (two on aft superstructure, one between funnels). All ships were arranged for minelaying, but with mines onboard the metacentric height fell to dangerous value. Machinery included three Yarrow boilers with lateral arrangement of fire chambers and economizers (28atm working pressure) and Curtiss geared turbine units with Parsons cruising turbines.

Contract with Yarrow on two ships and four complete sets of machineries was concluded 12.6.1931. Lima and Vouga were built in Britain, Douro and Tejo in Portugal. 18.1.1933 the order for one more complete set of machinery, for scheduled to building in Portugal Dão has followed. First Vouga has shown 36.17kts on trials at 32255hp. On trials Lima made 36.36kts at 33050hp. Soon after commission complement has been increased to 147.

Two ships built in Portugal, Douro and Tejo, in the early 1934, before commission, have been sold to Colombia as Caldas and Antioquia as a opponents to two Peruvian destroyers of Novik class, bought in 1933 in Estonia. Instead of them in Lisbon two new ships under the same names were laid down, machineries were again ordered to Yarrow.
Modernizations
1942-1943, all: + 3 x 1 - 20/70 Oerlikon Mk II/IV

1946-1949, all: - 3 x 1 - 40/39, 1 x 4 - 533 TT (fwd); + 4 x 1 - 20/70 Mk 4, 4 DCT; complement was 184

1957, all: - 2 x 1 - 120/50, 4 x 1 - 20/70, 4 DCT; + 1 x 2 - 40/60 Mk 9, 3 x 1 - 40/60 Mk 3, 1 x 3 - 305 Squid Mk 4 ASWRL, MLA-1B radar, type 147 sonar
Naval service
No significant events.