Photo

Vasco da Gama before reconstruction
Ships
| Name | No | Yard No | Builder | Laid down | Launched | Comp | Fate |
| --- | --- | --- | --- | --- | --- | --- | --- |
| Vasco da Gama |   |   | Thames Iron Works, Blackwall, UK | 1874 | 1.12.1875 | 1876 | disarmed 1933 |
Technical data
| | | |
| --- | --- | --- |
| Data variant | as completed | 1903 reconstruction |
| Displacement normal, t | 2384 | 2972 |
| Displacement full, t |   | 3200 |
| Length, m | 61.0 pp | 70.9 pp |
| Breadth, m | 14.2 over battery, 12.2 wl | 12.2 |
| Draught, m | 5.79 max | 6.27 max |
| No of shafts | 2 | 2 |
| Machinery | 2 VC | 2 VTE, Yarrow boilers |
| Power, h. p. | 3000 | 6000 |
| Max speed, kts | 10.3 | 15.5 |
| Fuel, t | coal 300 | coal 300 |
| Endurance, nm(kts) | 2500(9) | 2500(9) |
| Armour, mm | iron; belt: 229 - 102, battery: 254 - 152 | steel; belt: 250 - 100, deck: 75, shields: 200 |
| Armament | 2 x 1 - 263/18 RK L/20 C/74, 1 x 1 - 149/22 RK L/22 C/75, 4 x 1 - 67/40 Krupp | 2 x 1 - 203/40 A(tr)20.3/40, 1 x 1 - 152/45 A(tr)15/45, 1 x 1 - 76/40 A(tr)76/40, 6 x 1 - 47/40 H(tr)47/40 |
| Complement | 232 | 260 |
Standard scale images

Vasco da Gama 1910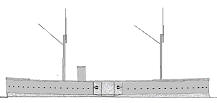 Vasco da Gama 1876
Graphics
Project history
Casemate ironclad. To the beginning of WWI ship had no battle value. Before reconstruction she was barquentine rigged. 26cm guns were placed in a raised battery and 15cm gun was installed aft.
Ship protection
Main 229-102mm belt was complete. Also main battery was only protected by 254-152mm iron.

Ship protection after modernization:Main 250-100mm belt was complete and was covered by 75mm main deck over machinery. Main guns were installed in sponsons and protected by 200mm shields. Also CT was protected.
Modernizations
(1901-1903, Orlando, Leghorn): ship was drastically reconstructed, the hull was cut in half and lengthened. New data was as given in the table.

1922: - 1 x 1 - 203/40, 1 x 1 - 76/40; + 1 x 1 - 102/40 QF Mk IV
Naval service
Vasco da Gama was disarmed in 1933 and in 1935 discarded and sold.