Photo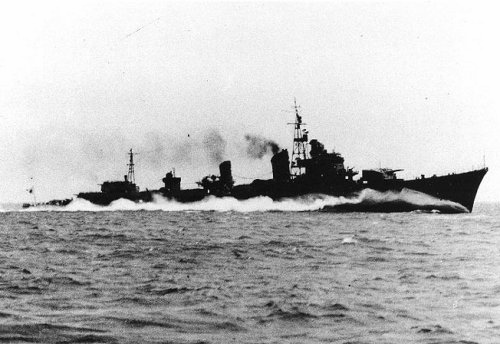 Shimakaze
Ships
| Name | No | Yard No | Builder | Laid down | Launched | Comp | Fate |
| --- | --- | --- | --- | --- | --- | --- | --- |
| 島風 [Shimakaze] |   |   | Maizuru K K | 8.1941 | 18.7.1942 | 5.1943 | sunk 11.11.1944 |
Technical data
| | |
| --- | --- |
| Displacement standard, t | 2567 |
| Displacement full, t | 3200 |
| Length, m | 120.5 pp 125.0 wl 129.5 oa |
| Breadth, m | 11.2 |
| Draught, m | 4.14 |
| No of shafts | 2 |
| Machinery | 2 sets Kampon geared steam turbines, 3 Kampon boilers |
| Power, h. p. | 75000 |
| Max speed, kts | 39 |
| Fuel, t | oil 550 |
| Endurance, nm(kts) | 1400(30) |
| Armament | 3 x 2 - 127/50 3-shiki, 3 x 2 - 25/60 96-shiki, 3 x 5 - 610 TT, 2 DCT (18) |
| Electronic equipment | 2-shiki 2-go radar, 93-shiki sonar |
| Complement | 267 |
Standard scale images

Shimakaze 1943

Shimakaze 1943
Graphics
Project history
Shimakaze represented a prototype of a "cruiser" destroyer, faster and stronger armed in comparison with predecessors. Improvements of characteristics were supposed to achieve at expense of new boilers with the raised steam parameters (40kgf/cm2, 400°C), tested earlier on destroyer Amatsukaze. At creation of machinery with high-pressure boilers German experience was used. For placing of stronger armament displacement has been raised more than on 400t, at expense of what new ship was possible to carry most powerful torpedo armament in the world: three quintuple TT mounts. Original design provided two septuple (!), however it was necessary to refuse them because of excessive weight. It was planned to equip destroyer with fast torpedo recharge equipment and five spare torpedoes, but experience of operations has revealed difficulties with recharge, therefore this idea have refused. In remaining armament repeated established on Kagero class, except for occurrence of third twin 25mm MG.

The ship has been ordered under 4th Supplementary Programme of 1939. Subsequently on her sample it was supposed to build within limits of the 1942 Programme 16 serial destroyers. The prototype building went slowly enough, the big difficulties were called by construction of engine. It, and also all worsening economic situation have led to abandoning from building of serial ships.

On trials Shimakaze reached 40.9kts at 79240hp.
Modernizations
early 1944: - 1 x 2 - 127/50 (No 2), 1 x 2 - 25/60; + 4 x 3 - 25/60 96-shiki, 2 DCT (totally 36)

7.1944: + 14 x 1 - 25/60 96-shiki, 4 x 1 - 13.2/76, 3-shiki 1-go radar
Naval service
11.11.1944 she was sunk in Omrock Bay by US carrier aircraft of TF.38.