Photo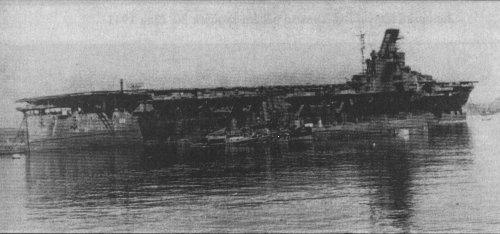 Junyo
Ships
| Name | No | Yard No | Builder | Laid down | Launched | Comp | Fate |
| --- | --- | --- | --- | --- | --- | --- | --- |
| 隼鷹 [Junyo] (ex-[Kashiwara Maru]) |   | 901 | Mitsubishi, Nagasaki | 20.3.1939 | 26.6.1941 | 5.5.1942 | damaged 9.12.1944, never repaired |
| 飛鷹 [Hiyo] (ex-Izumo Maru) |   |   | Kawasaki, Kobe | 30.11.1939 | 24.6.1941 | 31.7.1942 | sunk 20.6.1944 |
Technical data
Displacement standard, t

24140

Displacement full, t

28300

Length, m

206.0 pp 215.3 wl 219.3 oa

Breadth, m

26.7 wl 27.3 fd

Draught, m

8.15

No of shafts

2

Machinery

Junyo: 2 sets Mitsubishi geared steam turbines, 6 Mitsubishi boilers

Hiyo: 2 sets Curtis geared steam turbines, 6 Kawasaki - La Mont boilers

Power, h. p.

56250

Max speed, kts

25.5

Fuel, t

oil 2800

Endurance, nm(kts)

10000(18)

Armour, mm
deck: 70 - 20, magazines: 25
Armament

6 x 2 - 127/40 89-shiki, 8 x 3 - 25/60 96-shiki, 53 aircraft (A6M fighters, D3A diving bombers, B5N torpedo bombers)

Electronic equipment

1187 - 1224
Air group
| Year | Fighters | diving bombers | torpedo bombers |
| --- | --- | --- | --- |
| 5/1942 Junyo | 16 A6M2 | 24 D3A | --- |
| 6.1942 Junyo | 18 A6M2 | 18 D3A | --- |
| 7.1942 Junyo | 21 A6M2 | 18 D3A | 9 B5N |
| 8.1942 Hiyo | 21 A6M2 | 18 D3A | 9B5N |
| 3.1943 Hiyo | 27 A6M2 | --- | 12 B5N |
| 11.1943 Junyo | 12 A6M2, 12 A6M5 | 9 D3A, 9 D4Y | 9 B5N |
| 11.1943 Hiyo | 24 A6M2 | 18 D3A | 9 B5N |
| 6.1944 Junyo | 9 A6M2, 18 A6M5 | 9 D3A, 9 D4Y | 9 B6N |
| 6.1944 Hiyo | 9 A6M2, 18 A6M5 | 18 D3A | 9 B6N |
Standard scale images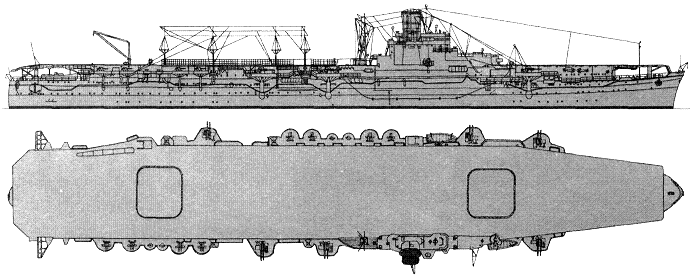 Junyo 1942

Junyo 1942
Graphics
Aircraft facilities
(fd - 5,741m², ha - 4,590m² / 22,950m³): Flight deck: 210.3x27.3m. Upper hangar: 153.0x15.0x5.0m, lower hangar: 153.0x15.0x5.0m. There were 2 lifts (14.0x14.0m, 5t). Aircraft fuel stowage: ?t.
Project history
These ships were laid down as passenger liners Kashiwara Maru and Idzumo Maru (27500BRT, 24kts), but in August, 1940 they were requisitioned by the Government for completion as carriers.

As a matter of fact, the design of liners originally provided their conversion to combat ships: it was a part of "shadow" shipbuilding program which was important reserve of the IJN in 1930th. Both vessels had strengthened hull structure with good sectioning into compartments in an underwater part. At the same time conversion of them to rigorous carriers demanded the decision of some serious problems. Vessel arrangement has called difficulties at designing a two-level hangar, but eventually designers managed to solve this task. Other problem became machinery structure. Not to delay terms of building, designers have decided to leave steam turbines already mounted on liners, being limited by only fitting of six more powerful boilers: it promised an increase in speed in 2.5kts. Flight deck had wooden flooring. Presence (at first time in the IJN) of island pooled with a funnel became feature of architecture of Junyo class. Besides, latter had a declination 25° to the starboard for the best spreader of gases from a flight deck. Later this scheme was applied at designing of Taiho and Shinano.

Protection was rather modest. 20mm deck over machinery was extra covered by two layers of 25mm steel: in the sum it gave 70mm protection. Petrol tanks and magazines had 25mm protection. In the spring of 1944 on Junyo this protection was strengthened by an additional concrete layer. On trials Hiyo made 25.6kts instead of designed 26.5. In the conditions of usual service maximal speed of the ships did not exceed 22-23kts.
Ship protection
70mm (50mm armor on 20mm plating) lower hangar deck protected machinery. Aircraft fuel tanks and magazines had box-shaped 25mm protection.
Modernizations
late 1942, both: + 1-shiki 2-go radar

1943, both: + 4 x 3 - 25/60 96-shiki, 2 x 2 - 25/60 96-shiki, 1-shiki 2-go radar (2nd)

3/1944, Junyo: aircraft fuel tanks received additional concrete protection; + 7 x 3 - 25/60 96-shiki, 18 x 1 - 25/60 96-shiki

8/1944, Junyo: + 12 x 1 - 25/60 96-shiki, 6 x 28 - 120 AA RL, 3-shiki 1-go radar
Naval service
Junyo 5.11.1943 was damaged by a torpedo from American submarine Halibut and was under repair till April, 1944. 20.6.1944 during attack of American carrier aircraft she was damaged by two bombs. Repair lasted till September, 1944. 9.12.1944 in the East China Sea she received hit of one torpedo from American submarine Sea Devil and 1-2 torpedoes from submarine Redfish. Repair was suspended in April, 1945, and and in 1947 Junyo scrapped.

Hiyo during battle at Mariana Islands in the evening 20.6.1944 received two air torpedo hits (Belleau Wood air group). As a result of the begun fire there was a series of internal explosions. Ship has lost a course and in 2 hours after attack sunk.