NAVYPEDIA
Ships
| Name | No | Yard No | Builder | Laid down | Launched | Comp | Fate |
| --- | --- | --- | --- | --- | --- | --- | --- |
| 紀伊 [Kii] |   |   | Yokosuka K K | --- | --- | --- | cancelled 4.1924 |
| 尾張 [Owari] |   |   | Kure K K | --- | --- | --- | cancelled 4.1924 |
| 駿河 [Suruga] |   |   | Kawasaki, Kobe | --- | --- | --- | cancelled 11.1923 |
| 近江 [Omi] |   |   | Mitsubishi, Nagasaki | --- | --- | --- | cancelled 11.1923 |
Technical data
| | |
| --- | --- |
| Displacement normal, t | 42600 |
| Displacement full, t | 48500 |
| Length, m | 250.0 oa 234.8 pp |
| Breadth, m | 30.8 |
| Draught, m | 9.70 |
| No of shafts | 4 |
| Machinery | 4 sets Gihon geared steam turbines, 19 Kampon boilers |
| Power, h. p. | 131200 |
| Max speed, kts | 29.7 |
| Fuel, t | coal 2500 + oil 3900 |
| Endurance, nm(kts) | 8000(14) |
| Armour, mm | belt: 292, bulkheads: 73, deck: 120, barbettes: 280 - 229, turrets: 356 - 230, CT: 356 |
| Armament | 5 x 2 - 410/45 3-shiki, 16 x 1 - 140/50 3-shiki, 4 x 1 - 120/45 10-shiki, 8 - 610 TT (beam) |
| Complement |   |
Standard scale images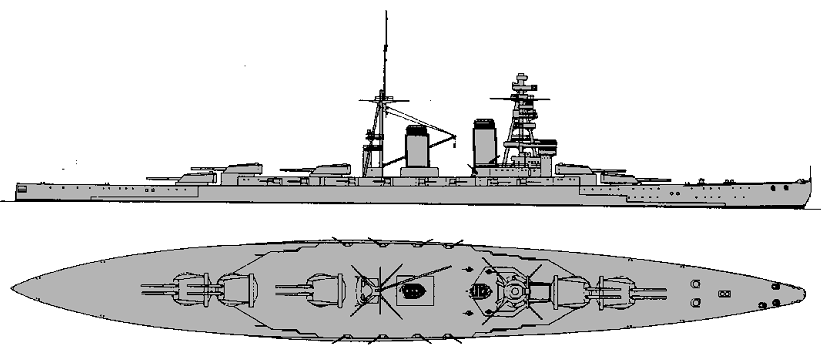 predecessor Amagi
Project history
These ships mark the decision of the Naval Staff to merge the battleship and battlecruiser categories; they were designated simply 'High Speed Battleships'. Designed by Y Hiraga, they were based on Amagi class with slightly thicker belt and deck armour, the latter 4.675 rather than 3Sin. All were cancelled (under the Washington Treaty). The first two were ordered on 12 October 1921; stopped 5 February 1922, and cancelled 14 April 1924. Second pair cancelled 19 November 1923. None were laid.
Ship protection (presumably)
15°inclined main belt had 292mm thickness between barbettes, tapering to 89mm at lower edge. Upper part of anti-torpedo longitudinal bulkhead extended up to main deck and served as 30mm splinter bulkhead. Hull outside end barbettes was protected by 229mm belt tapered to 76mm at lower edge. Upper 254mm belt extended from main belt to upper deck between end barbettes. It was closed by 254mm angled bulkheads. Casemate had 152mm armor. Flat main 120mm deck connected with upper edge of main belt. Lower (splinter) deck had 38mm thickness in flat part and connected with lower edge of main belt by 76-51mm slopes. Deck over casemate was 38-25mm. Turrets had 356mm faces, 203mm sides and rears and 190mm crowns. CT had 356mm sides and 76mm roof. Underwater protection was 6.5m deep and content 76mm longitudinal bulkhead.
© 2007-2021 - navypedia.org