NAVYPEDIA
Photo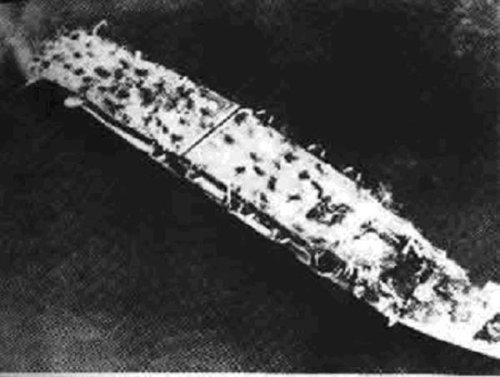 Shimane Maru
Ships
| Name | No | Yard No | Builder | Laid down | Launched | Comp | Fate |
| --- | --- | --- | --- | --- | --- | --- | --- |
| しまね丸 [Shimane Maru] |   |   | Kawasaki, Kobe | 8.6.1944 | 17.12.1944 | 28.2.1945 | sunk 24.7.1945 |
| 大滝山丸 [Otakisan Maru] |   |   | Kawasaki, Kobe | 18.9.1944 | 14.1.1945 | --- | sunk incomplete 25.8.1945 |
Technical data
| | |
| --- | --- |
| Displacement standard, t | 11800 |
| Displacement normal, t | 14500 |
| Length, m | 150.0 pp 153.0 wl 160.5 oa |
| Breadth, m | 20.0 wl 23.0 fd |
| Draught, m | 9.10 |
| No of shafts | 1 |
| Machinery | 1 set geared steam turbines, 2 boilers |
| Power, h. p. | 8600 |
| Max speed, kts | 18 |
| Fuel, t | oil |
| Endurance, nm(kts) | 10000(14) |
| Armament | 2 x 1 - 120/45 10-shiki, 9 x 3 - 25/60 96-shiki, 1 x 2 - 25/60 96-shiki, 23 x 1 - 25/60 96-shiki, 12 aircraft (Ki76 ASW planes), 1 DCT (16) |
| Electronic equipment | 3-shiki 1-go radar |
| Complement |   |
Standard scale images

Shimane Maru 1945
Graphics
Aircraft facilities(fd - 3,565m², ha ? m² / ? m³)
(fd - 3,565m², ha ? m² / ? m³): Flight deck: 155.0x23.0m. There was small hangar. There was 1 lift. Aircraft fuel stowage: ?.
Project history
Escort aircraft carriers-tankers ordered by Army command simultaneously with the ships of Yamashiro Maru class. They could also used as cargo ships. Shimane Maru was designed on the basis of the hull of standard tanker of 1TL type. In comparison with Yamashiro Maru, carriers had more perfect construction and bigger number of air group. It was supposed, that after launch aircrafts will land on coastal airfields. Before her lost Shimane Maru was planned to conversion to coal-burning by the reason of oil shortage.
Modernizations
None.
Naval service
Shimane Maru was sunk by American aircraft of TF.38 at Takamatsu Island 24.7.1945.

Building of Otakisan Maru was suspended in February, 1945 in 70% availability. She was lost in Kobe Bay 25.8.1945 (mined under tow to new place).


© 2007-2021 - navypedia.org