Photo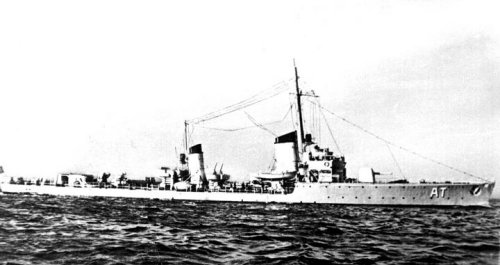 Albatros
Ships
| Name | No | Yard No | Builder | Laid down | Launched | Comp | Fate |
| --- | --- | --- | --- | --- | --- | --- | --- |
| Möwe | MÖ | 102 | MW Wilhelmshaven | 3/1925 | 4.3.1926 | 10/1926 | sunk 15.6.1944 |
| Seeadler | SE | 103 | MW Wilhelmshaven | 10/1925 | 15.7.1926 | 5/1927 | sunk 13.5.1942 |
| Greif | GR | 104 | MW Wilhelmshaven | 10/1925 | 15.7.1926 | 3/1927 | sunk 24.5.1944 |
| Albatros | AT | 105 | MW Wilhelmshaven | 10/1925 | 15.7.1926 | 5/1927 | sunk 10.4.1940 |
| Kondor | KO | 106 | MW Wilhelmshaven | 11/1925 | 22.9.1926 | 7/1928 | damaged 24.5.1944, never repaired |
| Falke | FK | 107 | MW Wilhelmshaven | 11/1925 | 22.9.1926 | 8/1927 | sunk 24.6.1944 |
Technical data
Displacement standard, t

Möwe: 798

others: 924

Displacement full, t

Möwe: 1213

others: 1290

Length, m

Möwe: 84.7 wl 87.0 oa

others: 85.7 wl 88.5 oa

Breadth, m

8.30

Draught, m

2.81 normal 3.65 max

No of shafts

2

Machinery

Möwe: 2 sets Blohm & Voss geared steam turbines, 3 Marine boilers

Greif, Falke: 2 sets Vulcan geared steam turbines, 3 Marine boilers

Seeadler: 2 sets Germania geared steam turbines, 3 Marine boilers

Albatros, Kondor: 2 sets Schichau geared steam turbines, 3 Marine boilers

Power, h. p.

Möwe: 22100

others: 23000

Max speed, kts

Möwe: 32

others: 33

Fuel, t

oil 321

Endurance, nm(kts)
3600(17)
Armament

3 x 1 - 105/42 SKC/06 (Tbts L/45), 2 x 3 - 500 TT, 30 mines

Complement

120
Standard scale images

Falke 1942

Falke 1942
Graphics
Project history
First torpedo ships, constructed in Germany within the limits of Versailles Treaty. The design was developed on the basis of H145 class of the period of the First World War and retained arrangement and structure of armament of a prototype. Machinery was placed linearly. Hull was constructed under longitudinal scheme, welding was widely used. For the first time in German Navy ships received triple TTs. 105mm guns were of model Utof/45 of 1906. Boats were equipped with Marine boilers and turbines of various producers: Möwe of Blohm und Voss, Seeadler of Germania, Greif and Falke of Vulkan, Albatros and Kondor of Schichau. Lead Möwe differed in the smaller dimensions and other hull form (cruiser stern instead of transom).
Modernizations
1930, Möwe: stern was lengthened as on latter ships, length oa was 88.8 m

1931, all: - 2 x 3 - 500 TT; + 2 x 3 - 533 TT

1935 - 1937, all: + 2 x 1 - 20/65 C/30

1939, all: + 2 DCT (8 - 12)

1940, all survived: - 2 x 1 - 20/65 C/30; + 3 x 1 - 20/65 C/38

1941, Möwe: cruiser stern was changed by transom, length oa was 88.2 m.

1942, all survived: + 1 x 4 - 20/65 C/38

1944, all survived: + 2x FuMO 63 radars, FuMB 4 Sumatra ECM suite
Naval service
In 1936-1938 all acted at coast of Spain. Albatros 10.4.1940 at evasion from fire of Norwegian coast battery ran ashore in Oslo-fjord and never repaired. Möwe 8.5.1940 was torpedoed by British submarine Taku in the North Sea, aft end was broken off, repair lasted 11 months. Seeadler was sunk 13.5.1942 by British MTB219 in La Manche. Greif was sunk 24.5.1944 by British bomber Albacore in Seine Mouth. Möwe and Falke were lost 15.6.1944 during raid of British aircraft to Le Havre. Kondor was hard damaged 24.5.1944 on mine in Seine mouth and 28.6.1944 stricken; 31.7.1944 she was destroyed by Allied aircraft in Le Havre.