Photo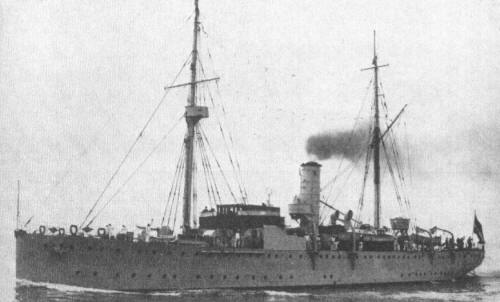 Meteor
Ships
| Name | No | Yard No | Builder | Laid down | Launched | Comp | Fate |
| --- | --- | --- | --- | --- | --- | --- | --- |
| Meteor |   | 101 | KW Danzig / RMW Wilhelmshaven | 1914 | 18.1.1915 | 11.1924 | surrendered 5.1945, to Soviet Union 12.1945 |
Technical data
| | |
| --- | --- |
| Displacement standard, t | 1200 |
| Displacement full, t | 1504 |
| Length, m | 67.0 wl 71.1 oa |
| Breadth, m | 10.2 |
| Draught, m | 3.60 normal 4.00 deep load |
| No of shafts | 2 |
| Machinery | 2 VTE, 2 Marine boilers |
| Power, h. p. | 885 |
| Max speed, kts | 11.5 |
| Fuel, t | coal 440 |
| Endurance, nm(kts) | 3650(10) |
| Armament | since 1930: 1 x 1 - 88/42 SK C/13 |
| Complement | 124 |
Standard scale images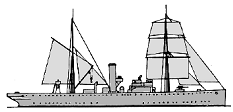 Meteor 1930

Meteor 1944
Graphics
Project history
Order for building of gunboat "C" was given out in 1913 and repeated in 1923. Originally planned as enlarged Iltis class, design of 1914 provided 4 105mm/45 guns and more powerful machinery with 4 boilers. Brigantine-rigged, sails area was 463 m2.
Modernizations
1930: sailing rig was removed

1934: VTE were replaced by 2 MAN diesels (2200hp, 14.5kts, 44t of diesel oil, 1000(9)nm)

1939-1944: + 2 x 1 - 20/65 C/38, FuMO 51 radar
Naval service
Vessel was used primarily for survey and fishery protection. In September, 1945, she was transferred to German Institute of Hydrography but in December that year transferred to USSR on reparation and from November, 1946 served as survey vessel Ekvator.