Photo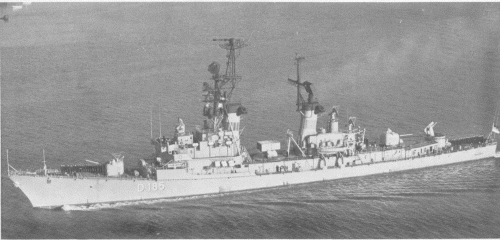 Lütjens 1976  
Ships
| Name | No | Yard No | Builder | Laid down | Launched | Comp | Fate |
| --- | --- | --- | --- | --- | --- | --- | --- |
| Lütjens | D185 |   | Bath Iron Wks, USA | 1.3.1966 | 11.8.1967 | 22.3.1969 | stricken 12.2003 |
| Mölders | D186 |   | Bath Iron Wks, USA | 12.4.1966 | 13.4.1968 | 20.9.1969 | stricken 5.2003 |
| Rommel | D187 |   | Bath Iron Wks, USA | 22.8.1967 | 1.2.1969 | 2.5.1970 | stricken 6.1999 |
Technical data
| | |
| --- | --- |
| Displacement standard, t | 3370 |
| Displacement full, t | 4717 |
| Length, m | 128.1 wl 134.4 oa |
| Breadth, m | 14.4 |
| Draught, m | 4.50 |
| No of shafts | 2 |
| Machinery | 2 sets General Electric geared steam turbines, 4 Combustion Engineering boilers |
| Power, h. p. | 70000 |
| Max speed, kts | 36 |
| Fuel, t | oil 930 |
| Endurance, nm(kts) | 4500(20) |
| Armament | 1 x 1 Tartar SAM (40 RIM-24B), 1 x 8 ASROC ASuR (8 RUR-5A), 2 x 1 - 127/54 Mk 42, 2 x 3 - 324 TT |
| Electronic equipment | SPS-52, SPS-40, SPS-10, 2x SPG-51, SPG-53 radars, SQS-23 sonar, WLR-6 ECM suite, SATIR I CCS |
| Complement | 333 |
Standard scale images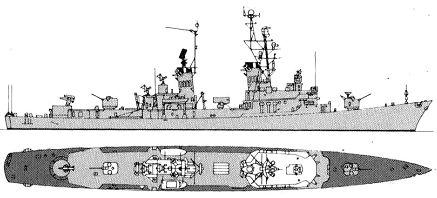 Lütjens 1975
Graphics
Project history
Thee Type 103 destroyers were based on the USN family of 'Tartar guided-missile destroyers SCB 155' (Charles F. Adams class Mod 14). They stemmed from a US/German agreement of 11.5.1964; the USN ordered them as DDG28-30.

TheyI differ from the original Charles F. Adams class in having modified funnels with side exhausts, and different masts. Originally it was intended to build six ships in German shipyards, but three were ordered from Bath Iron Works.
Modernizations
1977, Lütjens; 1978, Mölders; 1980, Rommel under type 103A: boilers were modified to burn light oil; - 1 x 1 Tartar SAM; + 1 x 1 Standard SM-1MR SAM (40 RIM-66A)

1983, Mölders; 1986, Lütjens, Rommel under type 103B: - 1 x 1 Standard SM-1MR SAM, 2x SPG-51 radars, SQS-23 sonar, WLR-6 ECM suite; + 1 x 1 Harpoon SSM / Standard SM-1MR SAM (4 RGM-84A/C + 36 RIM-66A), 2x SPG-51C radars, DSQS-21B sonar, FL-1800S ECM suite, 2x SRBOC decoy RL

mid-1990s, all: - SPG-53 radar; + 2 x 21 RAM SAM (42 RIM-116A), 2 x 1 - 20/90 S.20, SPG-60, SPQ-9 radars, SLQ-25 torpedo decoy
Naval service
No significant events.