Photo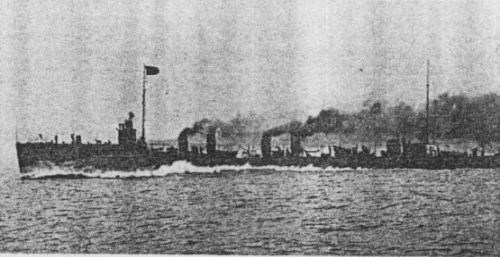 Flusser 1909
Ships
| No | Name | Yard No | Builder | Laid down | Launched | Comm | Fate |
| --- | --- | --- | --- | --- | --- | --- | --- |
| DD17 | Smith | 350 | Cramp, Philadelphia | 3/1908 | 20.4.1909 | 11/1909 | stricken 9.1919 |
| DD18 | Lamson | 351 | Cramp, Philadelphia | 3/1908 | 16.6.1909 | 2/1910 | stricken 9.1919 |
| DD19 | Preston | 62 | New York SB, Camden | 4/1908 | 14.7.1909 | 12/1909 | stricken 9.1919 |
| DD20 | Flusser | 49 | Bath Iron Wks | 8/1908 | 20.7.1909 | 10/1909 | stricken 9.1919 |
| DD21 | Reid | 50 | Bath Iron Wks | 8/1908 | 17.8.1909 | 12/1909 | stricken 9.1919 |
Technical data
| | |
| --- | --- |
| Displacement normal, t | 700 |
| Displacement full, t | 900 |
| Length, m | 88.1 wl 89.6 oa |
| Breadth, m | 7.90 |
| Draught, m | 2.40 |
| No of shafts | 3 |
| Machinery | 3 Parsons steam turbines, 4 Mosher boilers |
| Power, h. p. | 10000 |
| Max speed, kts | 28 |
| Fuel, t | coal 304 |
| Endurance, nm(kts) | 2800(10) |
| Armament | 5 x 1 - 76/50 Mk III/V/VI, 3 x 1 - 450 TT (6) |
| Complement | 87 |
Standard scale images

Smith 1910
Graphics
Project history
These ships were conceived as fully seagoing destroyers, as compared lo the relatively fragile craft of the first US series, ordered in 1898. Hence the high forecastle, and their relatively large size. Ironically, within a few years US practice had jumped once more, to the 'thousand tonners', and these and other smaller destroyers were dismissed as 'flivvers'. Although the design originally provided for either reciprocating engines or turbines, the turbine bids were much lower. The two Cramp ships had their two amidships funnels closely paired, the New York ship had hers equally spaced, and the two Bath ships had theirs paired fore and aft. All had triple screws driven by Parsons turbines, with the high-pressure unit on the centre shaft, and the two low-pressure turbines (and cruising turbines) on the wing shafts. The uniform armament of 5-76mm/50 guns was a considerable advance on the earlier ships, but, like their predecessors, these destroyers had single TTs, with one reload stowed near each tube.
Modernizations
1916, all: - 1 x 1 - 76/50, 3 x 1 - 450 TT; + 3 x 2 - 450 TT (6)
Naval service
Smith was based at Brest 1917-18.