Photo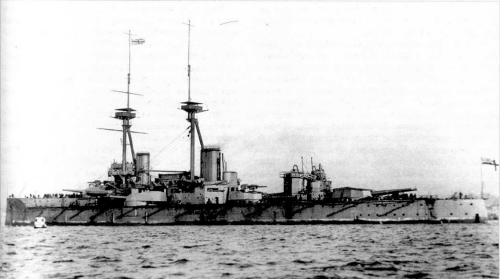 Vanguard 1913
Ships
| Name | No | Yard No | Builder | Laid down | Launched | Comp | Fate |
| --- | --- | --- | --- | --- | --- | --- | --- |
| St. Vincent | 16, 7A, 85 |   | Portsmouth DYd | 30.12.1907 | 10.9.1908 | 5.1909 | TS 1919, stricken 3.1921 |
| Collingwood | 26, 42, 03 |   | Devonport DYd | 3.2.1907 | 7.11.1908 | 4/1910 | TS 1918, stricken 12.1922 |
| Vanguard | 39 | 374 | Vickers, Barrow | 2.4.1908 | 22.2.1909 | 2.1910 | sunk 9.7.1917 |
Technical data
Displacement normal, t

19560

Displacement full, t

23030

Length, m

163.4

Breadth, m

25.6

Draught, m

8.50

No of shafts

4

Machinery

St. Vincent, Vanguard: 4 Parsons steam turbines, 18 Babcock & Wilcox boilers

Collingwood: 4 Parsons steam turbines, 18 Yarrow boilers

Power, h. p.

24500

Max speed, kts

21

Fuel, t

coal 2800 + oil 940

Endurance, nm(kts)
6900(10)
Armour, mm

belt: 254 - 178, bulkheads: 203 - 102, turrets: 279 (face) - 203 (sides and rear) - 76 (roof), barbettes: 229 (over main deck) - 127 (under main deck), deck: 76 - 19, CT: 279 (face and sides) - 203 (rear) - 76 (roof)

Armament

5 x 2 - 305/50 BL Mk XI, 20 x 1 - 102/50 BL Mk VII, 4 x 1 - 47/40 3pdr Hotchkiss Mk I, 3 - 450 TT (2 beam, 1 stern)

Complement

718
Graphics
Project history
These ships were distinguished from previous class only by new 50-cal guns. Horsepower was increased slightly to offset the rise in displacement, but a slight reduction in beam and draught, as more length helped as well. 305mm Mk XI guns were not successful and had very short barrel life and reduced accuracy at long range. As in Bellerophons the aft fire control position was useless because of smoke interference.
Protection
Main belt has 254-mm (tapering to 203-mm at the lower edge) thickness between barbettes "A" and "Y", 178-mm between barbette "A" and stem (last 10-m part from the stem was 51-mm), 64-mm between barbette "Y" and stern; its height was 2.08 m. Upper belt over 254-mm main belt was 203-mm. Both belts closed by fore 203 - 127-mm and aft 203-mm bulkheads. Second fore 102-127-mm bulkhead was at the end of 178-mm belt. Main deck was 32-mm between barbettes "A" and "Y", 44-mm middle deck with 44-mm slopes closed citadel. Lower deck was 76 mm aft from barbette "Y" and 38-mm fwd from barbette "A". Outer sides of barbettes "P" and "Q" were 254-mm.
Modernizations
before 1914, all: lowering the topmasts; - 2 x 1 - 102/50 (roof of "A" turret)

1915 - 1916, all: + 2 x 1 - 76/45 20cwt QF Mk I

1916 - 1917, all: clinker screen on the fore funnel was mounted (Collingwood received clinker screen on the after funnel also), torpedo nets were removed; - 2 x 1 - 76/45, 1 - 450 TT (stern) (stern); + 1 x 1 - 102/50 BL Mk VII (AA)

1918, Collingwood: + flying-off platforms on "A" & "Y" turrets for Sopwith Pup and 11.2-strutter

1918, Collingwood, St. Vincent: bridgeworks and control tops were enlarged, superstructure was build up, searchlights were regrouped.
Naval service
Collingwood grounded on uncharted rock off Ferrol in February 1911. Vanguard blew up at anchor in Scapa Flow 9.7.1917 due to faulty ammunition exploding. 804 lost. Collingwood since 1918 served as gunnery TS. St. Vincent was paid off into reserve in 1919 and served as gunnery TS until finally paid off late 1919.

Many thanks to Wolfgang Stöhr for additional information on this page.