Photo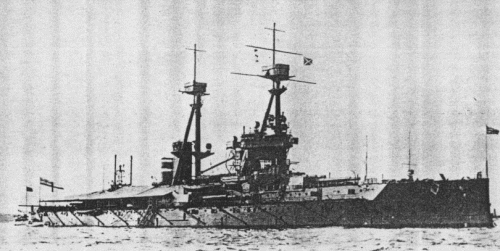 Bellerophon 1913
Ships
| Name | No | Yard No | Builder | Laid down | Launched | Comp | Fate |
| --- | --- | --- | --- | --- | --- | --- | --- |
| Bellerophon | 72, 11, 63 |   | Portsmouth DYd | 3.12.1906 | 27.7.1907 | 2.1909 | TS 1919, sold for BU 11.1921 |
| Temeraire | 48, A2, 92 |   | Devonport DYd | 1.1.1907 | 24.8.1907 | 5.1909 | TS 1919, sold for BU 12.1921 |
| Superb | 49, A0, 49 | 800 | Armstrong, Elswick | 6.2.1907 | 7.11.1907 | 5.1909 | TS 1919, stricken 1920 |
Technical data
| | |
| --- | --- |
| Displacement normal, t | 18800 |
| Displacement full, t | 22102 |
| Length, m | 160.3 |
| Breadth, m | 25.2 |
| Draught, m | 8.30 mean |
| No of shafts | 4 |
| Machinery | 4 Parsons steam turbines, 18 Babcock & Wilcox boilers |
| Power, h. p. | 23000 |
| Max speed, kts | 20.7 |
| Fuel, t | coal 2648 + oil 842 |
| Endurance, nm(kts) | 5720(10) |
| Armour, mm | belt: 254 - 127, bulkheads: 203, turrets: up to 279, barbettes: 229 - 127, decks: 102 - 13, CT: 279 - 203 |
| Armament | 5 x 2 - 305/45 BL Mk X, 16 x 1 - 102/50 BL Mk VII, 4 x 1 - 47/40 3pdr Hotchkiss Mk I, 3 - 450 TT (2 beam, 1 stern) |
| Complement | 733 |
Graphics
Project history
Virtually repeats of Dreadnought, with the same propulsion but some minor improvements. The tripod foremast was moved fwd of the fore funnel, but a second tripod and spotting position was equally likely to be smoked out, as it was placed immediately forward of the second funnel. 12pdr (76mm) guns were replaced by 102mm, an altogether more credible defence against destroyer attack. Although the main belt was slightly thinner, overall protection was improved by the inclusion for the first time of a torpedo bulkhead, an inner longitudinal bulkhead designed to localise a torpedo hit.

Although they suffered from the same weaknesses as Dreadnought they were built rapidly to maintain the lead, and were successful ships which remained in front-line service until 1918.
Ship protection
Main belt extended at full ship length and was 2.3m deep. At 60% of its length, between end barbettes, it was 254mm thick. Outside end barbettes thickness of the main belt was decreased to 178-152mm fore and 152-127mm aft. Upper belt between end barbettes had 203mm thickness. Both belts were closed abreast end barbettes by 203mm bulkheads. Middle deck had 31-18mm armour steel plating. Main deck in flat part and also slopes consisted of two layers of armour steel (25+18=43mm) and was connected by slopes with lower edge of main belt. Outside citadel main deck had 51mm thickness, this deck was risen a little above steering gear compartment and had 102mm glacises.

Barbettes between decks had uniform 152mm thickness, above middle deck they had 254mm protection. Turrets had 279mm faces and sides, 76mm roofs and 305mm rears. Main CT had 279mm sides and 76mm roof, its communication tube had 127mm plating.

Longitudinal torpedo bulkhead had 76-25mm thickness (76mm abreast magazines).
Modernizations
1915, all: topmasts were reduced in height, torpedo nets were removed

1916, all: - 10 x 1 - 102/50 (on turret roofs); + 10 x 1 - 102/50 BL Mk VII (on superstructure)

1917, all: funnel cap was added to the fore funnel; - 1 - 450 TT (stern)

1917, Bellerophon, Temeraire: + 2 x 1 - 102/50 BL Mk VII (AA)

1917, Collingwood: + 1 x 1 - 76/45 20cwt QF Mk I (AA)

1918, all: + flight platforms on 'A' and 'Y' turrets (for 1 Sopwith Pup and 1 Sopwith 11.2-strutter)
Naval service
Bellerophon collided with battlecruiser Inflexible at Portland in May 1911 and with merchantman in August 1914. In 1919 she went into reserve and became a turret drillship, for disposal 1920. Superb was paid off into reserve in 1919, became a turret drillship in 1919, was stricken in 1920 and used as target until was sold for BU in March 1923. Temeraire in 1919 was converted to cadet`s sea-going TS.

Many thanks to Wolfgang Stöhr for additional information on this page.