Photo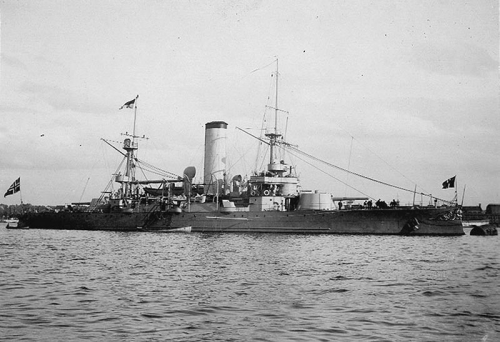 Tordenskjold 1900
Ships
| Name | No | Yard No | Builder | Laid down | Launched | Comp | Fate |
| --- | --- | --- | --- | --- | --- | --- | --- |
| Harald Haarfagre |   |   | Armstrong, Elswick, UK | 1896 | 4.1.1897 | 3.1898 | captured by Germany 9.4.1940 (Thetis) |
| Tordenskjold |   |   | Armstrong, Elswick, UK | 1896 | 18.3.1897 | 3.1898 | captured by Germany 9.4.1940 (Nymphe) |
Technical data
| | |
| --- | --- |
| Displacement normal, t | 3380 |
| Displacement full, t | 3858 |
| Length, m | 92.7 oa |
| Breadth, m | 14.8 |
| Draught, m | 5.38 max |
| No of shafts | 2 |
| Machinery | 2 VTE, 3 cylindrical boilers |
| Power, h. p. | 4000 |
| Max speed, kts | 16.9 |
| Fuel, t | coal 500 |
| Endurance, nm(kts) | 5000(10) |
| Armour, mm | Harvey steel; belt: 178-100, NS; turrets: 203-127, deck: 51-37, CT: 152 |
| Armament | 2 x 1 - 209/44 Armstrong B, 6 x 1 - 120/44 Armstrong Y, 6 x 1 - 76/40 Armstrong N, 6 x 1 - 37/45 Hotchkiss, 2 - 450 TT (beam) |
| Complement | 245 |
Standard scale images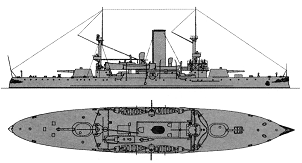 Harald Haarfagre 1940
Graphics
Project history
Classical coast defence battleships, ordered by Norway in the middle of 1890th. They were built by Armstrong from 1895. According to an customer wish, as the design sample newest (for that moment) Swedish Oden class ships have elected, and owing to it Norwegian ships had close enough to them characteristics.

As well as Norge class ships, Harald Haarfagre class pair during service did not pass any modernisations (except for installation of several AA guns). To the Second World War beginning they ultimately become outdated and have been laid up into reserve.
Protection
Belt protected about 60% of ship length, its thickness decreased to 102mm at upper edge, belt was covered by 51mm main deck. Ship ends were protected by 31mm belt and 37mm deck.
Modernizations
1923, both: + 2 x 1 - 47/46 QF Mk I

~1939, both: + 2 x 1 - 76/28 Bofors M36, 2 x 1 - 20/70 Oerlikon M36, 2 x 1 - 12.7/90
Naval service
Both ships 9.4.1940 were captured by German troops at Horten. They were converted by Germans to floating AA batteries and commissioned in 1941 under names Thetis (ex-Harald Haarfagre) and Nymphe (ex-Tordenskjold). Thetis was returned to Norway in May 1945 and sold for scrap, and Nymphe was bombed and beached at Svolvaer in May 1945.