NAVYPEDIA Support the project with paypal
Photo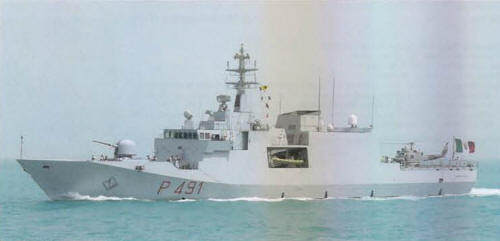 Comandante Borsini 2008
Ships
| Name | No | Yard No | Builder | Laid down | Launched | Comp | Fate |
| --- | --- | --- | --- | --- | --- | --- | --- |
| Comandante Cigala Fulgosi | P490 |   | Fincantieri, Riva Trigoso | 2.1999 | 7.10.2000 | 31.7.2001 | in service (2019) |
| Comandante Borsini | P491 |   | Fincantieri, Riva Trigoso | 21.7.1999 | 17.2.2001 | 4.12.2001 | in service (2019) |
| Comandante Bettica | P492 |   | Fincantieri, Riva Trigoso | 9.3.2000 | 23.6.2001 | 4.4.2002 | in service (2019) |
| Comandante Foscari | P493 |   | Fincantieri, Riva Trigoso | 23.10.2000 | 24.11.2001 | 1.8.2002 | in service (2019) |
Technical data
Displacement standard, t

1200

Displacement full, t

1520

Length, m

80.0 pp 88.4 oa

Breadth, m

12.2

Draught, m

3.30 hull 4.60 propellers

No of shafts

2

Machinery

2 Wärtsilä W18V26XN diesels

Power, h. p.

17625

Max speed, kts

26

Fuel, t

diesel oil

Endurance, nm(kts)

3500(14)

Armament

P490-492: 1 x 1 - 76/62 OTO-Melara Compact SR, 2 x 1 - 25/87 KBA25/80, 2 x 1 - 7.6/90, 1 helicopter (AB-212 or NH-90)

P493: 1 x 1 - 76/62 OTO-Melara Compact SR Strales, 2 x 1 - 25/87 KBA25/80, 2 x 1 - 7.6/90, 1 helicopter (AB-212 or NH-90)

Electronic equipment

SPS-791, SPG-76, SPN-753 radars, SLQ-747 ECM suite, SCLAR-H decoy RL, SSI CCS

Complement

59 + 11 passengers
Standard scale images

Comandante Cigala Fulgosi 2010
Graphics
Project history
NUMC = Nuove Unita Minori Combattenti (New Minor Combatant Unit). The four were provisionally ordered in 1998, contract confirmed in 1999. Are used for economic exclusion zone patrol. The hull and superstructure are shaped to reduce radar reflection. The boat pockets recessed into the superstructure amidships are covered by Faraday-shield mesh to eliminate radar returns, and exhaust cooling has been fitted. The helicopter hangar is telescoping. Fin stabilizers are fitted, and the underwater portion of the hull has a pronounced bulbous bow form. Comandante Foscari employs a GRP superstructure, lower mast, and helicopter hangar delivered by Intermarine; incorporating layers of Kevlar and GRP ballistic protection around the bridge and carbon fiber to shield against electromagnetic interference, the new structure weighs 60% less than the steel structures in the earlier three. Also she carries a 76mm Oto-Melara Super Rapid gun in a faceted gunhouse.
Modernizations
2011, all: + Janus-N e/o detector
Naval service
No significant events.
© 2007-2022 - navypedia.org