Photo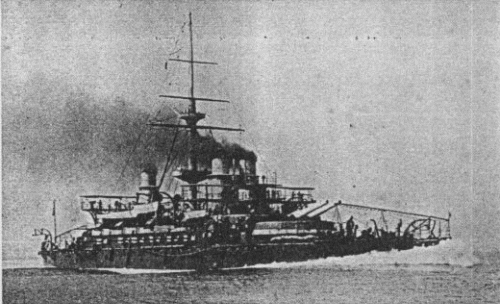 Sicilia 1895
Ships
| Name | No | Yard No | Builder | Laid down | Launched | Comp | Fate |
| --- | --- | --- | --- | --- | --- | --- | --- |
| Re Umberto |   |   | R. Cantiere di Castellamare di Stabia | 10.7.1884 | 17.10.1888 | 16.2.1893 | depot ship 10.1912, floating battery 12.1915-7/1920 |
| Sicilia |   |   | R. Arsenale di Venezia | 3.11.1884 | 6.7.1891 | 4.5.1895 | depot ship 7.1914 |
| Sardegna |   |   | R. Arsenale di La Spezia | 24.10.1885 | 20.9.1890 | 16.2.1895 | stricken 1.1923 |
Technical data
Displacement normal, t

Re Umberto: 13673

Sicilia: 13058

Sardegna: 13641

Displacement full, t

Re Umberto: 15454

Sicilia: 14842

Sardegna: 15426

Length, m

Re Umberto: 122.0 pp 127.6 oa

Sicilia, Sardegna: 125.5 pp 130.7 oa

Breadth, m

23.4

Draught, m

Re Umberto: 9.29

Sicilia: 8.83

Sardegna: 8.84

No of shafts

2

Machinery

Re Umberto, Sicilia: 4 VC, 18 cylindrical boilers

Sardegna: 4 VTE, 18 cylindrical boilers

Power, h. p.

Re Umberto: 17000

Sicilia: 19131

Sardegna: 22800

Max speed, kts

Re Umberto: 18.2

Sicilia: 20.1

Sardegna: 20.3

Fuel, t

coal 3000

Endurance, nm(kts)
4000(10) - 6000(10)
Armour, mm

Schneider steel; belt: 100, main turrets: 100, barbettes: 350, battery: 100, gunshields: 50, CT: 300, deck: 75

Armament

Re Umberto: 2 x 2 - 343/30, 8 x 1 - 152/40 A91, 16 x 1 - 57/43 N, 10 x 1 - 37/25 H lungo, 5 - 450 TT aw (1 bow, 4 beam)

Sicilia, Sardegna: 2 x 2 - 343/30, 8 x 1 - 152/40 A91, 20 x 1 - 57/43 N, 10 x 1 - 37/25 H lungo, 5 - 450 TT aw (1 bow, 4 beam)

Complement

Re Umberto: 733

Sicilia: 736

Sardegna: 794
Standard scale images

Re Umberto 1893
Graphics
Project history
First pair (Re Umberto and Sicilia) were built under 1883 programme, but president of the Committee for Naval projects B. Brin proposed in 1885 building of the third ship to form squadron. Sardegna was slightly different in some data, she had more modern machinery. Re Umberto had three funnels, with the first pair of them abreast.
Ship protection
Main 100mm belt protected most part of the length between barbettes and was closed by 70mm bulkheads, it was connected with 100mm battery protection. Shell hoists of main guns had 300mm protection. 75mm curved main deck was connected with lower edge of main belt.
Modernizations 12.
1915, Re Umberto: armament consisted only from 2 x 2 - 343/30 A1887

11/1917, Sardegna: armament consisted of 2 x 2 - 343/30 A1887, 4 x 1 - 76/40 A1916, 2 x 1 - 6.5/80 AA

10/1918, Re Umberto: armament consisted of 8 x 1 - 76/40 A1916, a number of 240mm trench mortars, saw and cutters for use against booms and nets.
Naval service
Re Umberto since October, 1912 served as depot ship, in 1916-1917 as floating battery at first at Brindisi, then at Valona. In April-October, 1918 she was converted to special assault ship for attack of Austrian base in Pola: she was equipped with cutting torches for break of harbour booms. Re Umberto was supposed to use as original ram, behind which 40 MAS boats should rush into a harbour, but the end of the war has not allowed to realise this unusual operation. Sicilia was discarded in July 1914 but reinstated in August as auxiliary.