NAVYPEDIA Support the project with paypal
Photo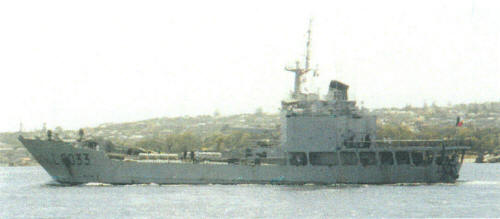 Jacques Cartier 2003
Ships
| Name | No | Yard No | Builder | Laid down | Launched | Comm | Fate |
| --- | --- | --- | --- | --- | --- | --- | --- |
| Champlain | L9030 |   | DCN, Brest | 1973 | 17.11.1973 | 5.10.1974 | stricken 8.2004 |
| Francis Garnier | L9031 |   | DCN, Brest | 1973 | 17.11.1973 | 21.6.1974 | stricken 6.2010 |
| Dumont d'Urville | L9032 |   | At. Français de l'Ouest, Grand-Quevilly | 15.12.1980 | 27.11.1981 | 5.2.1983 | stricken 2017 |
| Jacques Cartier | L9033 |   | At. Français de l'Ouest, Grand-Quevilly | 9.10.1981 | 28.4.1982 | 28.9.1983 | stricken 8.2013 |
| La Grandière | L9034 |   | At. Français de l'Ouest, Grand-Quevilly | 27.8.1984 | 11.12.1985 | 20.1.1987 | stricken 10.2016 |
Technical data
Displacement standard, t

L9030, 9031: 770

L9032-9034: 820

Displacement full, t

L9030, 9031: 1330

L9032-9034: 1385

Length, m

68.0 pp 80.0 oa

Breadth, m

13.0

Draught, m

3.00 max 2.50 hull

No of shafts

2

Machinery

2 SACM 195 V12 CSHR diesels

Power, h. p.

3600

Max speed, kts

16

Fuel, t

diesel oil

Endurance, nm(kts)

3500(13)

Armament

L9030, 9031: 2 x 1 - 40/60 Mk 7, 2 x 1 - 81/12 mortars, 2 x 1 - 12.7/90

L9032-9034: 2 x 1 - 20/90 MIT-20F2, 2 x 1 - 81/12 mortars, 2 x 1 - 12.7/90

Military load

L9030, 9031: 350t of cargo, 138 troops, 12 vehicles

L9032-9034: 2 LCVP, 330 t of cargo, 180 troops, 12 vehicles

Electronic equipment

DRBN-32 radar

Complement

44
Standard scale images

Champlain 1990
Graphics
Project history
Designated BATRAL (Bâtiment de Transport Léger), these vessels are designed for overseas service. They carry a landing company (guépard), comprising five officers, 133 men, six Léopard armoured personnel carriers and six lorries. Two LCVPs are carried on the upper deck. A maximum load of 330t can be carried, and cargo can be transferred ashore either by the 10t hydraulic crane or via the bow ramp, which has a maximum capacity of 40t. The three ships of the second series have improved accommodation for a total of 180 troops, and a higher bridge structure. The last unit, La Grandière, was built for export and subsequently acquired by the Marine Nationale; she has a longer flight deck than her sisters.
Modernizations
1999, all: - 2 x 1 - 81/12 mortars
Naval service
No significant events.
© 2007-2022 - navypedia.org