Photo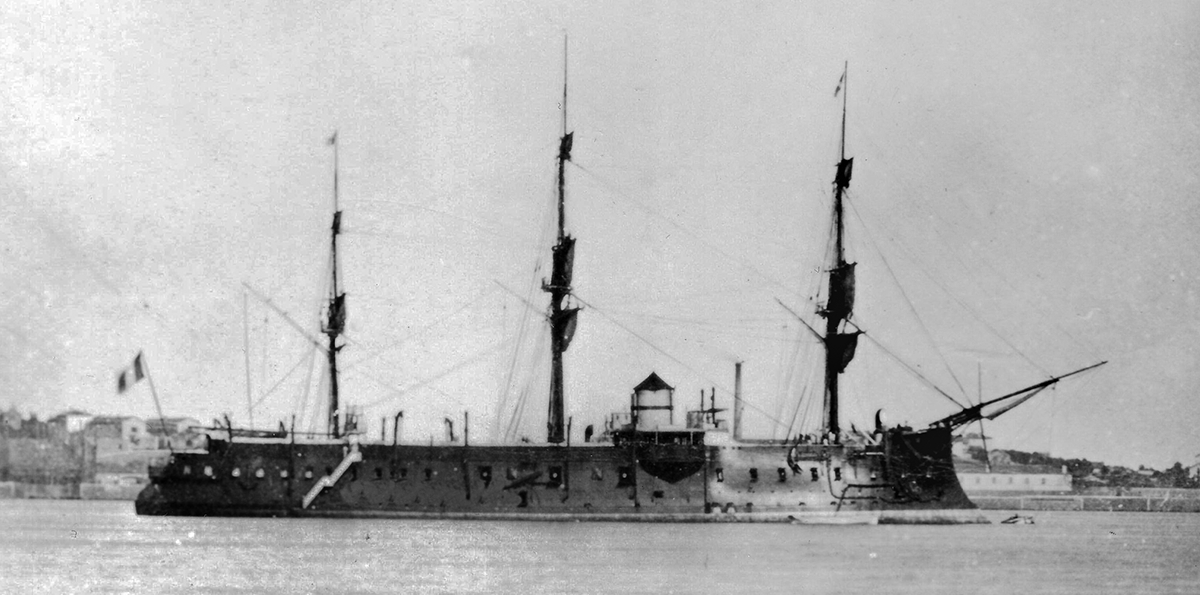 Trident
Ships
| Name | No | Yard No | Builder | Laid down | Launched | Comp | Fate |
| --- | --- | --- | --- | --- | --- | --- | --- |
| Colbert |   |   | Arsenal de Brest | 4.7.1870 | 16.9.1875 | 30.6.1877 | condemned 8.1900 |
| Trident |   |   | Arsenal de Toulon | 4/1870 | 9.11.1876 | 18.11.1878 | gunnery TS 1894, condemned 3.1900 |
Technical data
Displacement normal, t

8750

Displacement full, t
 
Length, m

Colbert: 96.9 wl 101.1 oa

Trident: 96.9 wl 102.1 oa

Breadth, m

17.5

Draught, m

Colbert: 8.53 max

Trident: 8.84 max

No of shafts

1

Machinery

1 HRCR compound, 8 oval boilers

Power, h. p.

4600

Max speed, kts

14

Fuel, t

coal 620

Endurance, nm(kts)
3300(10)
Armour, mm
wrought iron; belt: 220 - 180, battery: 160, bulkheads: 120, deck: 15
Armament

8 x 1 - 274/18 M1870, 1 x 1 - 240/18 M1870, 8 x 1 - 139/21 M1870

Complement

774
Standard scale images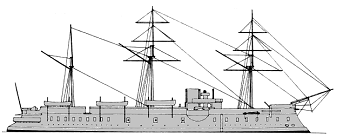 Colbert 1877
Graphics
Project history
This class were the last French wooden hulled sea-going battleships. The battery was shorter than in the Richelieu and accommodated 6 274mm guns which had no axial fire, the other two being in unarmoured barbettes with the upperworks much recessed to give a wide arc of training. One 240mm gun was forward under the forecastle and the second was added shortly after completion in place of two 139mm. It was mounted at the stern on a centre pivot mounting with light protection. Metacentric height was 0.6 - 0.8m and as completed they were full rigged with 2140 m2 of sail. A British report notes that the Colbert had steam steering and was said to be very handy.
Ship protection
The belt (1.8m heigh) was complete and had 220mm thickness (180mm near the stern) and the unarmoured wooden sides above were plated by 15mm iron. Battery had 160mm sides and 120mm bulkheads. Barbettes were unarmoured.
Modernizations
1870s, Colbert: - 2 x 1 - 139/21; + 1 x 1 - 240/18 M1870, 14 x 5 - 37/20 M1885, 4 - 350 TT (aw, beam)

1870s, Trident: - 2 x 1 - 139/21; + 1 x 1 - 240/18 M1870, 18 x 5 - 37/20 M1885, 6 - 350 TT (aw, beam)
Naval service
No significant events.