Photo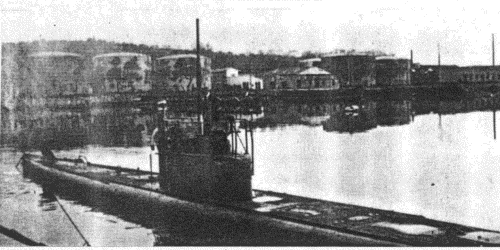 U1 1917
Ships
| Name | No | Yard No | Builder | Laid down | Launched | Comp | Fate |
| --- | --- | --- | --- | --- | --- | --- | --- |
| U1 |   |   | Marinearsenal Pola | 7/1907 | 10.2.1909 | 11/1909 | BU 1920 |
| U2 |   |   | Marinearsenal Pola | 7/1907 | 3.4.1909 | 12/1909 | BU 1920 |
Technical data
| | |
| --- | --- |
| Displacement normal, t | 230 / 270 |
| Displacement full, t |   |
| Length, m | 30.5 |
| Breadth, m | 3.35 |
| Draught, m | 3.20 |
| No of shafts | 2 |
| Machinery | 2 petrol engines / 2 electric motors |
| Power, h. p. | 640 / 200 |
| Max speed, kts | 10.3 / 5 |
| Fuel, t | petrol |
| Endurance, nm(kts) | 950(6) / 40(3) |
| Armament | 3 - 450 TT (2 bow, 1 stern, 5) |
| Complement | 17 |
| Diving depth operational, m | 30 max |
Standard scale images

U1 1911
Graphics
Project history Built to the design of the American Simon Lake at the Pola N Yd and had the features typical of this submarine designer two retractable wheels for movement over the seabed, a
Built to the design of the American Simon Lake at the Pola N Yd and had the features typical of this submarine designer: two retractable wheels for movement over the seabed, a diving chamber under the bow and variable pitch propellers. The diving tanks were situated on top of the cylindrical single hull, above the waterline, which meant that a heavy ballast keel was necessary to provide vertical stability, and had to be flooded by pumps, the whole operation totalling 8 minutes. Furthermore the gasoline engines could not be considered effective under war conditions and did not reach the contract power, so the Austro-Hungarian Navy only paid for the hulls and armament. Thereafter new diesels were ordered in Austria and until their delivery the original engines were employed on lease. U 2 was given a small conning tower in 1915.
Modernizations 5.
1915, U1, 3.1916, U2: petrol engines were replaced by diesels (640hp)

1917, both: + 1 x 1 - 37/20 SFK L/23 H

1/1918, both: - 1 x 1 - 37/20
Naval service
During the war both units served as training boats and were declared obsolete on 11 January 1918; both were ceded to Italy as war reparations in 1920 and scrapped at Pola.