Photo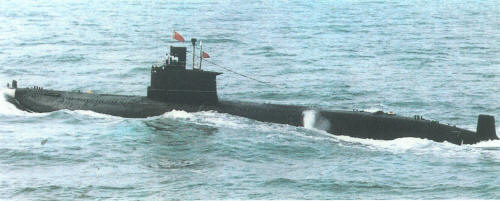 2002
Ships
| Name | No | Yard No | Builder | Laid down | Launched | Comp | Fate | Modification |
| --- | --- | --- | --- | --- | --- | --- | --- | --- |
| 长城 232 [Changcheng 232] (ex-Changcheng 162) | 232 |   | Jiangnan SY, Shanghai | 10/1969 |   | 4.10.1974 | stricken 2006 | Type 035 (ES5C) |
| 长城 233 [Changcheng 233] (ex-Changcheng 163) | 233 |   | Wuhan SY | 1970 |   | 11/1974 | fire 26.5.2005, stricken | Type 035 (ES5C) |
| 长城 342 [Changcheng 342] | 342 |   | Wuhan SY | 1979 | 1980 | 24.12.1982 | stricken 2010-12 | Type 035A (ES5D) |
| 长城 352 [Changcheng 352] | 352 |   | Wuhan SY | 1985 |   | 1988 | stricken 2012 | Type 035A |
| 长城 353 [Changcheng 353] | 353 |   | Wuhan SY | 1986 |   | 1989 | stricken 2013? | Type 035A |
| 长城 354 [Changcheng 354] | 354 |   | Wuhan SY | 1987 |   | 1990 | stricken 2012 | Type 035A |
| 长城 355 [Changcheng 355] | 355 |   | Wuhan SY | 1987 |   | 1990 | foundered 1992, CTL | Type 035A |
| Type 035G (ES5E) |   |   |   |   |   |   |   | Type 035A |
| 长城 356 [Changcheng 356] | 356 |   | Wuhan SY | 1985 | 1989 | 12/1990 | to Bangladesh 11.2016 (নবযাত্রা [Nabajatra]) | Type 035A |
| 长城 357 [Changcheng 357] | 357 |   | Wuhan SY |   |   | 1992 | to Bangladesh 11.2016 (জয়যাত্রা [Joyjatra]) | Type 035A |
| 长城 358 [Changcheng 358] | 358 |   | Wuhan SY |   |   | 1993 | in service (2019) | Type 035A |
| 长城 359 [Changcheng 359] | 359 |   | Wuhan SY |   |   | 1994 | in service (2019) | Type 035A |
| 长城 360 [Changcheng 360] | 360 |   | Wuhan SY |   |   | 1995 | in service (2019) | Type 035A |
| 长城 361 [Changcheng 361] | 361 |   | Wuhan SY |   |   | 1995 | foundered 16.4.2003, stricken | Type 035A |
| 长城 362 [Changcheng 362] | 362 |   | Wuhan SY |   |   | 1996 | in service (2019) | Type 035A |
| 长城 363 [Changcheng 363] | 363 |   | Wuhan SY |   | 5/1996 | 1996 | in service (2019) | Type 035A |
| 长城 305 [Changcheng 305] | 305 |   | Wuhan SY |   | 6/1997 | 1998 | in service (2019) | Type 035A |
| 长城 306 [Changcheng 306] | 306 |   | Wuhan SY |   | 9/1997 | 1998 | in service (2019) | Type 035A |
| 长城 307 [Changcheng 307] | 307 |   | Wuhan SY |   | 5/1998 | 1999 | in service (2019) | Type 035A |
| 长城 308 [Changcheng 308] | 308 |   | Wuhan SY |   | 10/1998 | 1999 | in service (2019) | Type 035A |
| 长城 309 [Changcheng 309] | 309 |   | Wuhan SY |   | 6/2000 | 2000 | in service (2019) | Type 035A |
| 长城 310 [Changcheng 310] | 310 |   | Wuhan SY |   | 6/2000 | 2001 | in service (2019) | Type 035B (ES5F) |
| 长城 311 [Changcheng 311] | 311 |   | Wuhan SY |   | 9/2000 | 2002 | in service (2019) | Type 035B (ES5F) |
| 长城 312 [Changcheng 312] | 312 |   | Wuhan SY |   | 5/2001 | 2003 | in service (2019) | Type 035B (ES5F) |
| 长城 313 [Changcheng 313] | 313 |   | Wuhan SY |   | 4/2002 | 2004 | in service (2019) | Type 035B (ES5F) |
Technical data
Displacement standard, t

 

Displacement normal, t

1584 / 2113

Length, m

76.0

308: 78.0

Breadth, m

7.60

Draught, m

5.10

No of shafts

2

Machinery

ES5C: 2 Shaanxi 6E390ZC diesels / 2 Xiangtan electric motors

others: 2 Shaanxi 6E390ZC-1 diesels / 2 Xiangtan electric motors

308: 2 Shaanxi 6E390ZC-1 diesels / 2 Xiangtan electric motors / AIP, 2 electric motors

Power, h. p.

ES5C: 4800 / 2700

others: 5200 / 7000

308: 5200 / 7000 / 150

Max speed, kts

ES5C: 15.2 / 12

others: 15 / 18

Fuel, t

diesel oil

Endurance, nm(kts)

8000(9) / 330(4)

Armament

8 - 533 TT (6 bow, 2 stern, 16 or 28 mines)

Electronic equipment

type 035, 035A: type 353A radar, SQZ sonar suite (SQC-1, SQW-2 sonars), type 925 ECM suite

type 035G, 035B: type 353A radar, SQZ-D sonar suite (SQC-1, SQW-2, SQG-2B sonars), type 925 ECM suite, ZLT-4A CCS

Complement

57

Diving depth operational, m

300
Standard scale images

Changcheng 363 2000

Changcheng 310 2000
Graphics
Project history
18 boats were built by Wuhan SY, 4 by Jiangnan SY. This is a Chinese-built derivative of the Soviet Project 633 with slightly more engine and motor power and a redesigned outer hull. Boats of Type 035 (ES5C) were differed from Type 033 by new machinery. Some sources say about single-screw and triple-screw schemes, but plans of usual twin-screw construction with more powerful diesels and motors are more real. In fact first two submarines were built with machinery power equal to Type 033 but with new hull form and electronics. Type 035A received new machinery (modernised diesels and much more powerful electric motors). Mass-production version Type 035G differs from previous versions by ability to launch wire-guided Yu-3 torpedoes, new SQZ-D sonar suite including French-designed DUUX-5 sonar (Chinese name is SQG-2B) and combat control system. Last series unit, Changzheng 308, was lengthened by 2 meters to add section with AIP. Last Type 035B submarines received new fin, similar to later Type 039, new electronics, ability to launch Yu-4 torpedoes and, in future, cruise missiles from TTs.
Modernizations
2000s, some: - SQZ sonar suite; + DUUX-5 sonar suite

2000s, some: - type 925 ECM suite; + type 921-A (SRW-209) ECM suite
Naval service
Changcheng 361 was foundered 16.4.2003 with 70 men on board, all hands lost. She was later salvaged and towed off to base, but her status is now unknown. Deletion of this boat from in-service list is more real. Changcheng 233 suffered fire on board 26.5.2006 in the South China Sea, towed back to port and stricken.