NAVYPEDIA Support the project with paypal
Ships
| Name | No | Yard No | Builder | Laid down | Launched | Comp | Fate |
| --- | --- | --- | --- | --- | --- | --- | --- |
| Брегалница [Bregalnica] (ex-Wels, ex-l) |   | 1290 | Danubius, Budapest, Austria-Hungary | 1915 | 22.10.1915 | 1916 // 12.1918 | to Hungary 4.1920 (Szeged) |
| Неретва [Neretva] (ex-Barsch, ex-m) |   | 1291 | Danubius, Budapest, Austria-Hungary | 1915 | 1915 | 1916 // 12.1918 | to Austria 4.1920 (Barsch) |
Technical data
| | |
| --- | --- |
| Displacement normal, t | 133 |
| Displacement full, t | ? |
| Length, m | 44.0 |
| Breadth, m | 6.00 |
| Draught, m | 1.00 |
| No of shafts | 2 |
| Machinery | 2 sets AEG geared steam turbines, 2 Yarrow boilers |
| Power, h. p. | 1200 |
| Max speed, kts | 15 |
| Fuel, t | oil 18 |
| Endurance, nm(kts) |   |
| Armour, mm | belt: 8, deck: 6, turrets: 10, CT: 10 |
| Armament | 2 x 2 - 66/24 G. L/26 K.15 BAK, 2 x 2 - 8.3/66 |
| Complement | 40 |
Standard scale images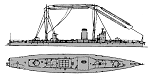 Bregalnica 1919
Project history
Former Austria-Hungarian boats l and m, renamed as Wels and Barsch in 1916. Wels and Barsch were interned by Yugoslavia in December 1918 and commissioned by its Navy as Bregalnica and Neretva in January 1919.
Ship protection
Bullet-proof.
Modernizations
None.
Naval service
In April 1920, Wels was transferred to Hungary and Barsch to Austria.

Many thanks to Wolfgang Stöhr for additional information on this page.
© 2007-2022 - navypedia.org