NAVYPEDIA Support the project with paypal
Photo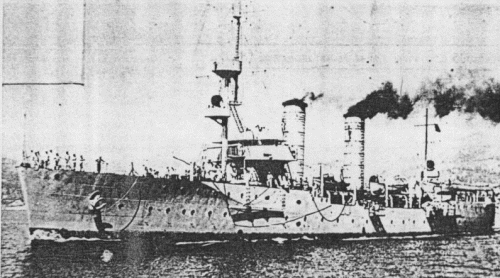 Dalmacija
Ships
| Name | No | Yard No | Builder | Laid down | Launched | Comp | Fate |
| --- | --- | --- | --- | --- | --- | --- | --- |
| Далмација [Dalmacija] (ex-Niobe) |   | 120 | A G Weser, Bremen, Germany | 30.8.1898 | 18.7.1899 | 25.6.1900 // 24.6.1925 | captured by Italy 17.4.1941 (Cattaro) |
Technical data
| | |
| --- | --- |
| Displacement normal, t | 2360 |
| Displacement full, t | 2953 |
| Length, m | 104.4 wl 105.0 oa |
| Breadth, m | 12.2 |
| Draught, m | 5.20 |
| No of shafts | 2 |
| Machinery | 2 VTE, 8 Thornycroft boilers |
| Power, h. p. | 8110 |
| Max speed, kts | 16 |
| Fuel, t | coal 580 |
| Endurance, nm(kts) | 4000(10) |
| Armour, mm | steel / Krupp steel - deck: 25 - 20, slopes: 50, CT: 80 |
| Armament | 6 x 1 - 83/52 Škoda M.27, 4 x 1 - 47/40 L/44 Škoda, 2 x 1 - 15/84 |
| Complement | 300 |
Standard scale images

Dalmacija 1941
Graphics
Project history
Former German protected cruiser Niobe. Under Versailles Treaty she was preserved as part of Reichsmarine, but really she was never commissioned again by Germans. 24.6.1925 she was sold to Yugoslavia and renamed Dalmacija. In 1925-1926 ship was rebuilt on Deutsche Werke, Kiel. The fore part undergone greatest alterations: ram stem was replaced by raking, forecastle deck lost characteristic turtleback form. Superstructures were altered; masts were significantly shortened and fitted with projector flats; besides, the foremast became tripod. All armament was removed. Ship was commissioned 3.9.1926. In 1927 at Tivat arsenal (Kotor Bay) new armament of Czechoslovak production was installed. Dalmacija was used as AA ship, depot and training ship.
Ship protection
25mm protective deck with 50mm slopes protected machinery, outside machine spaces 20mm deck had turtleback form. Engines had 80mm glacises. CT had 80mm sides and 20mm roof.
Modernizations
None.
Naval service
17.4.1941 Dalmacija was captured at Kotor by Italian troops and commissioned by Regia Marina as coast defence ship Cattaro. 11.9.1943 she was captured by German troops at Pola and 6.12.1943 commissioned by Kriegsmarine as Niobe. 19.12.1943 she ran aground at island Silba (coast of Yugoslavia) and 22.9.1943 was destroyed by torpedoes from British MTBs.



Many thanks to Wolfgang Stöhr for additional information on this page.
© 2007-2022 - navypedia.org