Photo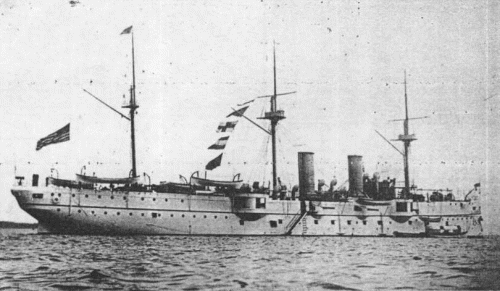 San Francisco 1891
Ships
| No | Name | Yard No | Builder | Laid down | Launched | Comm | Fate |
| --- | --- | --- | --- | --- | --- | --- | --- |
| C5, 7.1920- CM2 | San Francisco, 12.1921- Tahoe, 1.1931- Yosemite | 11 | Union Iron Wks, San Francisco | 14.8.1888 | 26.10.1889 | 15.11.1890 | minelayer 6.1908, stricken 6.1937 |
Technical data
| | |
| --- | --- |
| Displacement normal, t | 4088 |
| Displacement full, t | 4583 |
| Length, m | 98.9 |
| Breadth, m | 15.0 |
| Draught, m | 5.74 |
| No of shafts | 2 |
| Machinery | 2 HTE, 4 cylindrical boilers |
| Power, h. p. | 10500 |
| Max speed, kts | 19 |
| Fuel, t | coal 627 |
| Endurance, nm(kts) | 7400(10) |
| Armour, mm | steel - deck: 51 with 76mm slopes, CT: 76 |
| Armament | 12 x 1 - 152/30 Mk III, 4 x 1 - 57/40 Hotchkiss Mk I/II, 4 x 1 - 47/40 Hotchkiss Mk I/Driggs-Schroeder Mk I, 2 x 1 - 37/20 Hotchkiss Mk I |
| Complement | 384 |
Standard scale images
San Francisco 1890
Graphics
Project history
Authorized under the Act of 3.3.1887. Originally rigged as a three-masted schooner without head gear, San Francisco generally resembled Newark except that the two forward and two after 152mm guns were carried a deck higher and were not in sponsons.
Ship protection
The protective deck was 51mm at flat part with 76mm slopes amidships, CT had 76mm sides. Guns were partly installed in unprotected sponsons and partly on open deck.
Modernizations
1902: - 12 x 1 - 152/30; + 12 x 1 - 152/41 Mk IV

(1908 - 1911, Norfolk N Yd, Portsmouth): cruiser was rebuilt as minelayer. Armament consisted of 8 x 1 -127/40 Mk III guns and stowage for 180 mines. Old boilers were replaced by 8 Babcock & Wilcox

to 1918: - 8 x 1 - 127/40; + 4x 1 - 127/51 Mk VIII
Naval service
During the First World War she took part in laying the Northern Mine Barrage. San Francisco was decommissioned at Philadelphia in 1921, and remained in reserve until stricken in 1937. Sold for BU in 1939.