Photo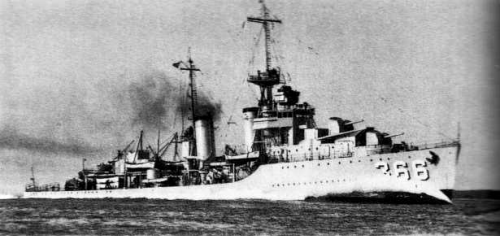 Drayton 1936
Ships
| No | Name | Yard No | Builder | Laid down | Launched | Comm | Fate | Modification |
| --- | --- | --- | --- | --- | --- | --- | --- | --- |
| DD364 | Mahan | 819 | Bethlehem, Staten I, Port Richmond | 6/1934 | 15.10.1935 | 9/1936 | sunk 7.12.1944 | Mahan subclass |
| DD365 | Cummings | 820 | Bethlehem, Staten I, Port Richmond | 6/1934 | 11.12.1935 | 11/1936 | stricken 1.1947 | Mahan subclass |
| DD366 | Drayton | 159 | Bath Iron Wks | 3/1934 | 26.3.1936 | 9/1936 | stricken 10.1945 | Mahan subclass |
| DD367 | Lamson | 160 | Bath Iron Wks | 3/1934 | 17.6.1936 | 10/1936 | sunk in nuclear tests 25.7.1946 | Mahan subclass |
| DD368 | Flusser | 127 | Federal, Kearny | 6/1934 | 28.9.1935 | 10/1936 | stricken 4.1947 | Mahan subclass |
| DD369 | Reid | 128 | Federal, Kearny | 6/1934 | 11.1.1936 | 11/1936 | sunk 11.12.1944 | Mahan subclass |
| DD370 | Case |   | Boston N Yd, Charlestown | 9/1934 | 14.9.1935 | 9/1936 | stricken 1.1947 | Mahan subclass |
| DD371 | Conyngham |   | Boston N Yd, Charlestown | 9/1934 | 14.9.1935 | 11/1936 | stricken 6.1948 | Mahan subclass |
| DD372 | Cassin |   | Philadelphia N Yd | 10/1934 | 28.10.1935 | 8/1936 | destroyed 7.12.1941 | Mahan subclass |
| DD372 | Cassin (ii) |   | Mare Island N Yd, Vallejo | 6.1942 | 25.6.1943 | 2/1944 | stricken 1.1947 | Mahan subclass |
| DD373 | Shaw |   | Philadelphia N Yd | 10/1934 | 28.10.1935 | 9/1936 | stricken 10.1945 | Mahan subclass |
| DD374 | Tucker |   | Norfolk N Yd, Portsmouth | 8/1934 | 26.2.1936 | 7/1936 | sunk 4.8.1942 | Mahan subclass |
| DD375 | Downes |   | Norfolk N Yd, Portsmouth | 8/1934 | 22.4.1936 | 1/1937 | destroyed 7.12.1941 | Mahan subclass |
| DD375 | Downes (ii) |   | Mare Island N Yd, Vallejo | 6.1942 | 22.5.1943 | 11/1943 | stricken 1.1947 | Mahan subclass |
| DD376 | Cushing |   | Puget Sound N Yd, Bremerton | 8/1934 | 31.12.1935 | 8/1936 | sunk 13.11.1942 | Mahan subclass |
| DD377 | Perkins |   | Puget Sound N Yd, Bremerton | 8/1934 | 31.12.1935 | 9/1936 | collision 29.11.1943 | Mahan subclass |
| DD378 | Smith |   | Mare Island N Yd, Vallejo | 10/1934 | 20.2.1936 | 9/1936 | stricken 2.1947 | Mahan subclass |
| DD379 | Preston |   | Mare Island N Yd, Vallejo | 10/1934 | 22.4.1936 | 10/1936 | sunk 14.11.1942 | Mahan subclass |
| DD384 | Dunlap | 839 | Bethlehem, Staten I, Port Richmond | 4/1935 | 18.4.1936 | 6/1937 | stricken 1.1947 | Dunlap subclass |
| DD385 | Fanning | 840 | Bethlehem, Staten I, Port Richmond | 4/1935 | 18.9.1936 | 10/1937 | stricken 1.1947 | Dunlap subclass |
Technical data
Displacement standard, t

1488

Displacement full, t

2103

Length, m

101.8 wl 104.0 oa

Breadth, m

10.7

Draught, m

3.76 full load

No of shafts

2

Machinery

2 sets General Electric geared steam turbines, 4 Babcock & Wilcox boilers

Power, h. p.

49000

Max speed, kts

36.5

Fuel, t

oil 201 - 522

Endurance, nm(kts)
6500 (12)
Armament

DD364 - 379, 384, 385: 5 x 1 - 127/38 Mk 12, 4 x 1 - 12.7/90, 3 x 4 - 533 TT, 2 DCR (14)

DD372 (ii), 375 (ii): 4 x 1 - 127/38 Mk 12, 2 x 2 - 40/56 Mk 1.2, 6 x 1 - 20/70 Mk 4, 2 x 4 - 533 TT, 4 DCT, 2 DCR (44)

Electronic equipment

DD364 - 379, 384, 385: QCA sonar

DD372 (ii), 375 (ii): presumably SC-3, SG-1, Mk 12.22 radars, QCA sonar

Complement
158
Standard scale images
Dunlap 1940

Dunlap 1944

Conyngham 1944
Graphics
Project history
Yet on design stage Farragut class destroyers were criticised by USN chief staff for insufficient, from their point of view, torpedo armament. At discussion on the General Board about requirements to new destroyers which will be built under the FY1933 programme, the judgement of supporters of strengthening of torpedo armament has prevailed, and it was offered to prepare the design with 12 TTs. Soon a sketch design with 4 triple TT banks, arranged aside, and 5 single 127/38 SP guns, was ready. Last circumstance has called the sharp criticism from the chief of Department of Naval operations (analogue of HQ chief) and this design has been turned down.

In March, 1933 the new compromise variant was ready. By insignificant increase in a hull breadth and re-planning of an armament arrangement (main gun No3 was transferred to aft superstructure, and two of three TTs have placed aside behind aft funnel) it was possible to achieve desirable result, however wider hull conducted to speed decrease that was considered as unacceptable. The way out has been found by Gibbs and Сох Co., developed the compact machinery with sufficient high-pressure boilers and first-ever (on destroyers) double-reduction geared turbines. Though new machinery was appeared almost on 30t more heavy, than on Farragut class, it was on some thousands hp more powerful and much more sufficient: with 50t less fuel stowage Mahan had the same endurance as Farragut.

Under the FY1933 programme 16 ships were built, two more (DD384 and 385) under the FY1934 program. Latters differed from other class having both fwd guns on ring based mounts for the first time in USN: that has allowed to made easier ammunition feeding and to fulfil a mount completely enclosed. Often these ships are outlined as separate Dunlap class.

During raid of Japanese aircraft to Pearl Harbour 7.12.1941 Downes and Cassin, laying in a drydock, were badly damaged by fire. At scuttling of dock they have received additional damages. Hulls of both destroyers became so deformed, that actually were not subjects to repair. Rather undamaged have appeared only machinery and part of armament. Formally both destroyers have been repaired (though hulls have built anew, they have the same numbers, therefore from the bureaucratic point of view remained the same ships). Both new-built ships differed from other destroyers of the class by low opened "Admiralty" bridge, two TTs at the centreline and a new fire control system.
Modernizations
early 1942, Mahan, Cummings, Drayton, Lamson, Flusser, Reid, Case, Tucker, Cushing, Perkins, Smith, Preston, Dunlap, Fanning: - 1 x 1 - 127/38, 4 x 1 - 12.7/90; + 7 x 1 - 20/70 Mk 4, 4 DCT (44 DC at all)

early 1942, Conyngham: - 1 x 1 - 127/38, 2 x 1 - 12.7/90; + 2 x 1 - 20/70 Mk 4, 4 x 2 - 12.7/90, 4 DCT (44 DC at all)

late 1942, Shaw: - 1 x 1 - 127/38, 2 x 1 - 12.7/90; + 1 x 4 - 28/75 Mk 1, 4 x 1 - 20/70 Mk 4, 4 DCT (44 DC at all)

1942 - 1944, almost all survived (except Cassin (ii), Downes (ii)): + SC, SG, Mk 12.22 radars

1.1943 - mid-1944, Mahan, Cummings, Drayton, Lamson, Flusser, Reid, Case, Perkins, Smith, Dunlap, Fanning: - 2 x 1 - 20/70; + 2 x 2 - 40/56 Mk 1.2

spring 1943, Conyngham: - 4 x 2 - 12.7/90, 2 x 1 - 12.7/90; + 2 x 2 - 40/56 Mk 1.2, 3 x 1 - 20/70 Mk 4

late 1943 - mid-1944, Shaw: - 1 x 4 - 28/75; + 2 x 2 - 40/56 Mk 1.2, 1 x 1 - 20/70 Mk 4

1944, Dunlap: - 1 x 4 - 533 TT

1.1945, Lamson: - 2 x 2 - 40/56, 2 x 4 - 533 TT; + 2 x 4 - 40/56 Mk 1.2

6.1945, Shaw: - 1 x 1 - 127/38, 5 x 1 - 20/70, 3 x 4 - 533 TT; + 2 x 4 - 40/56 Mk 1.2, 2 x 2 - 20/70 Mk 4

8.1945, Lamson: - 1 x 4 - 533 TT

1.1946, DD365, 368, 370, 371, 378, 385: 4 x 1 - 127/38 Mk 21, 2 x 2 - 40/60 Mk 1, 5 x 1 - 20/70 Mk 10, 3 x 4 - 533 TT, 4 DCT, 2 DCR (44), SC, SG, Mk 12.22 radars, QCA sonar

1.1946, DD367: 4 x 1 - 127/38 Mk 21, 2 x 4 - 40/60 Mk 2, 5 x 1 - 20/70 Mk 10, 4 DCT, 2 DCR (44), SC, SG, Mk 12.22 radars, QCA sonar

1.1946, DD372, 375: 4 x 1 - 127/38 Mk 21, 2 x 2 - 40/60 Mk 1, 6 x 1 - 20/70 Mk 10, 2 x 4 - 533 TT, 4 DCT, 2 DCR (44), SC, SG, Mk 12.22 radars, QCA sonar

DD384: 4 x 1 - 127/38 Mk 21, 2 x 2 - 40/60 Mk 1, 5 x 1 - 20/70 Mk 10, 2 x 4 - 533 TT, 4 DCT, 2 DCR (44), SC, SG, Mk 12.22 radars, QCA sonar