Photo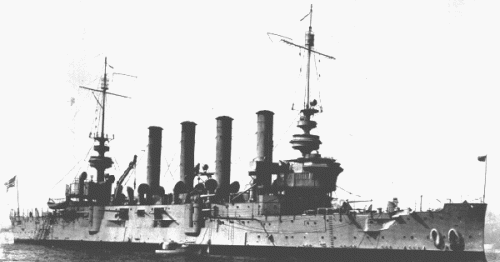 Charleston
Ships
| No | Name | Yard No | Builder | Laid down | Launched | Comm | Fate |
| --- | --- | --- | --- | --- | --- | --- | --- |
| C20, 7.1920- CA18 | St. Louis |   | Neafie & Levy, Philadelphia | 31.7.1902 | 6.5.1905 | 18.8.1906 | stricken 3.1930 |
| C21 | Milwaukee | 80 | Union Iron Wks, San Francisco | 30.7.1902 | 10.9.1904 | 11.5.1906 | wrecked 13.1.1917 |
| C22, 7.1920- CA19 | Charleston | 41 | Newport News | 30.1.1902 | 23.1.1904 | 17.10.1905 | sold 3.1930 |
Technical data
Displacement normal, t

9700

Displacement full, t

10839

Length, m

129.9

Breadth, m

20.1

Draught, m

6.86 mean

No of shafts

2

Machinery

2 VTE, 16 Babcock & Wilcox boilers

Power, h. p.

21000

Max speed, kts

22

Fuel, t

C20, 21: coal 1650

CA22: coal 1700

Endurance, nm(kts)
6200(10)
Armour, mm

Harvey steel - belt: 102, deck: 76 - 51, casemate: 102, CT: 127

Armament

C20, 22: 14 x 1 - 152/49 Mk VI, 18 x 1 - 76/50 Mk III/V/VI, 12 x 1 - 47/40-45 Driggs-Schroeder Mk I/II, 8 x 1 - 37/40 Driggs-Schroeder heavy Mk I

C21: 14 x 1 - 152/49 Mk VIII, 18 x 1 - 76/50 Mk III/V/VI, 12 x 1 - 47/40-45 Driggs-Schroeder Mk I/II, 8 x 1 - 37/40 Driggs-Schroeder heavy Mk I

Complement

673 - 767
Standard scale images

St. Louis 1906
Graphics
Project history
Authorized under the Act of 7.6.1900. Not considered a good design. The 152mm guns were disposed with one forward and one aft in shields, four in upper deck casemates, and eight in the main deck battery, while 12 of the 76mm were also on the main deck.
Ship protection
102mm main lower belt covered machinery only. Upper 102mm belt covered lower battery. Armoured deck over citadel was 51mm behind the belt at flat part and connected with lower belt edge by 76mm slopes. This deck was 76mm with 76mm slopes at ship ends. 4 152mm guns were protected by shields, others by 102mm upper belt and casemates.
Modernizations
1914 - 1918, all: - 2 x 1 - 152/50, 14 x 1 - 76/50; + 2 x 1 - 76/52 Mk X
Naval service
Milwaukee was stranded off California 13.1.1917 attempting to salve submarine H3. All attempts to salvage her have appeared unsuccessful and later wreck was broken in two in storm in November 1918.