NAVYPEDIA Support the project with paypal
Photo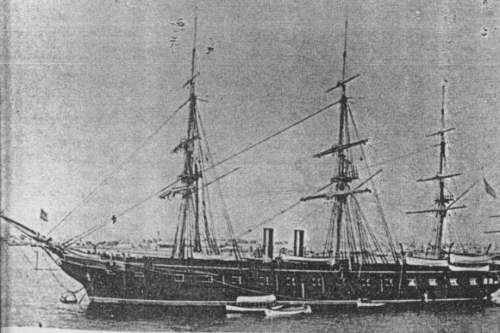 Pensacola 1886
Ships
| No | Name | Yard No | Builder | Laid down | Launched | Comm | Fate |
| --- | --- | --- | --- | --- | --- | --- | --- |
|   | Pensacola |   | Pensacola N Yd / Washington N Yd |   | 15.8.1859 | 16.9.1861 | TS 11.1898, receiving ship 7.1901 |
Technical data
| | |
| --- | --- |
| Displacement normal, t | 3000 |
| Displacement full, t |   |
| Length, m | 70.3 pp |
| Breadth, m | 13.6 |
| Draught, m | 5.66 |
| No of shafts | 1 |
| Machinery | 1 4-cyl Dickerson HDA, 2 water-tube boilers |
| Power, h. p. |   |
| Max speed, kts | 8.8 |
| Fuel, t | coal |
| Endurance, nm(kts) |   |
| Armament | 1 x 1 - 279/15 Dahlgren SB, 16 x 1 - 229/15 Dahlgren SB |
| Complement | ~300 |
Standard scale images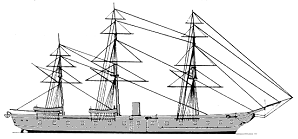 nearly sister-ship Hartford 1860
Graphics
Project history
Large corvette classified as sloop of Hartford group. Building of Pensacola was unusual process in any case. She was launched 15.8.1859 and commissioned without engines 5.12.1859 and sailed for Washington N Yd for installing machinery. Again Pensacola was commissioned 16.9.1861 but engines were incomplete and tried until 3.1.1862. As result of experimental engines she had worst machinery in US Navy of that time and was one of slowest US naval ships.
Modernizations
1862: + 6 x 1 - 229/15 Dahlgren SB, 1 x 1 - 163/22 100pdr Parrott rifled

~1865: engines were replaced by 2-cyl HRCR, max speed was 8.5kts

1878: boilers were replaced by 4 new, ship became 2-funneled.
Naval service
Pensacola served as TS since 11.1898 and in July 1901 became a receiving ship. She was stricken 23.12.1911.
© 2007-2022 - navypedia.org