NAVYPEDIA Support the project with paypal
Photo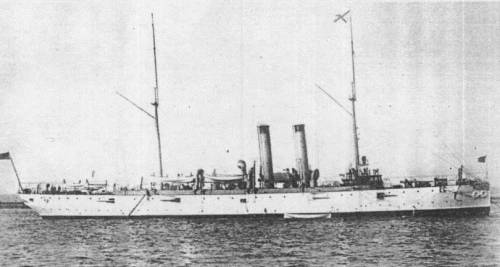 Cleveland 1904
Ships
| No | Name | Yard No | Builder | Laid down | Launched | Comm | Fate |
| --- | --- | --- | --- | --- | --- | --- | --- |
| C14, 7.1920- PG28, 8.1921- CL16 | Denver |   | Neafie & Levy, Philadelphia | 28.6.1900 | 21.6.1902 | 17.5.1904 | stricken 3.1931 |
| C15, 7.1920- PG29, 8.1921- CL17 | Des Moines | 107 | Fore River, Quincy | 28.8.1900 | 20.9.1903 | 5.3.1904 | stricken 12.1929 |
| C16, 7.1920- PG30, 8.1921- CL18 | Chattanooga |   | Crescent, Elizabethport | 29.3.1900 | 7.3.1903 | 11.10.1904 | stricken 12.1929 |
| C17, 7.1920- PG31, 8.1921- CL19 | Galveston |   | Norfolk N Yd, Portsmouth | 19.1.1901 | 23.7.1903 | 15.2.1905 | stricken 11.1930 |
| C18, 7.1920- PG32, 8.1921- CL20 | Tacoma | 71 | Union Iron Wks, San Francisco | 27.9.1900 | 2.6.1903 | 30.1.1904 | wrecked 16.1.1924 |
| C19, 7.1920- PG33, 8.1921- CL21 | Cleveland | 35 | Bath Iron Wks | 1.6.1900 | 28.9.1901 | 2.11.1903 | stricken 12.1929 |
Technical data
Displacement normal, t

3200

Displacement full, t

3514

Length, m

94.1

Breadth, m

13.4

Draught, m

4.80 mean

No of shafts

2

Machinery

2 VTE, 6 Babcock & Wilcox boilers

Power, h. p.

4500

Max speed, kts

16.5

Fuel, t

C14, 16, 18, 19: coal 675

C15, 17: coal 700

Endurance, nm(kts)
6900(10)
Armour, mm

deck: 8 with 64 - 25mm slopes, casemates: 44

Armament

10 x 1 - 127/50 Mk V, 8 x 1 - 57/50 Driggs-Schroeder Mk II, 2 x 1 - 37/50 Driggs-Schroeder heavy long Mk II

Complement

339
Standard scale images
Denver 1900
Graphics
Project history
Authorized under the Act of 3.3.1899. Slow and weak ships on the lines of a larger Montgomery. 127mm guns were mounted with one fore and aft on the upper deck, and eight on the main deck in casemates, the hull being recessed to give better axial fire.
Ship protection
Thickness of deck slopes was 64mm amidships and 25mm at ship ends, flat was 8mm. Casemates had 44mm protection.
Modernizations
1917-1918, all: - 2 x 1 - 127/50
Naval service
Tacoma was wrecked on reef off Vera Cruz 16.1.1924.
© 2007-2023 - navypedia.org