Photo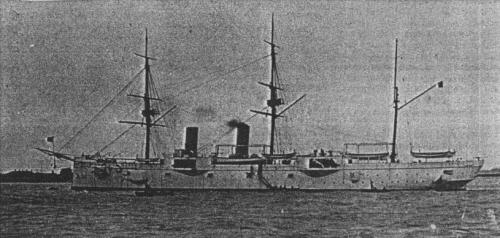 Chicago 1890s
Ships
| No | Name | Yard No | Builder | Laid down | Launched | Comm | Fate |
| --- | --- | --- | --- | --- | --- | --- | --- |
| 7.1920- CA14, 1921- CL14 | Chicago |   | John Roach, Chester // Delaware River, Chester | 29.12.1883 | 5.12.1885 | 17.4.1889 | Naval Militia TS 1.1910 |
Technical data
| | |
| --- | --- |
| Displacement normal, t | 4500 |
| Displacement full, t | 4864 |
| Length, m | 104.3 |
| Breadth, m | 14.7 |
| Draught, m | 5.79 mean |
| No of shafts | 2 |
| Machinery | 2 COB (compound overhead beam), 5 cylindrical boilers |
| Power, h. p. | 5000 |
| Max speed, kts | 14 |
| Fuel, t | coal 831 |
| Endurance, nm(kts) | 5300(10) |
| Armour, mm | steel; belt: 29, deck: 38, battery: 25, CT: 76 |
| Armament | 4 x 1 - 203/31 Mk II, 8 x 1 - 152/30 Mk III, 2 x 1 - 127/31 Mk I, 2 x 1 - 57/40 Hotchkiss Mk I/II, 2 x 1 - 37/20 Hotchkiss Mk I |
| Complement | 409 - 471 |
Standard scale images

Chicago 1889
Graphics
Project history
Authorized under the Act of 3.3.1883. The 203mm guns were in four upper deck sponsons with the 152mm and 127mm on the main deck, the 127mm being aft. The boilers were unusual in being externally fired. Chicago being rigged as a barque without royals.
Ship protection
Chicago was poorly protected with a 38mm deck extending for 41.5m over the machinery spaces but only 19mm over the magazines.
Modernizations
(1895-1898): nominal displacement risen to 5000t, 38mm deck plating was added over the steering gear, a narrow armour belt of 25mm side added to protect gun crews and 21.3m-long 29mm-thick narrow belt at the bow for ramming, CT received 76mm sides. New machinery comprising 6 Babcock & Wilcox and 4 cylindrical boilers with 2-shaft HTE gave 9000ihp = 18kts, and the sails were removed. ; - 4 x 1 - 203/31, 8 x 1 - 152/30, 2 x 1 - 127/31; + 4 x 1 - 203/37 Mk IV, 14 x 1 - 127/40 Mk III
Naval service
From 1910 to 1917 Chicago was with the Massachusetts and then Pennsylvania Naval Militia, and from 1917 to 1923 mostly served with submarines, her guns being reduced to 4- 127mm/51. Classified as CA14 in July 1920, Chicago was an accommodation ship at Pearl Harbor 1923-1935 (renamed IX5 Alton July 1928) and foundered after sale under tow to San Francisco.