Photo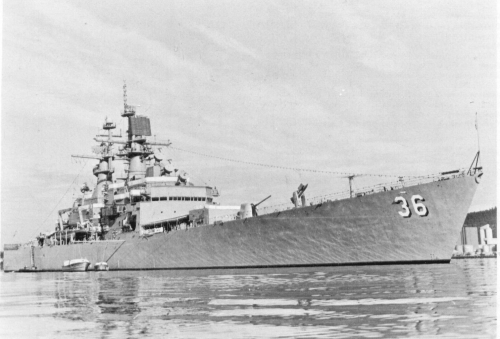 California 1979
Ships
| No | Name | Yard No | Builder | Laid down | Launched | Comm | Fate |
| --- | --- | --- | --- | --- | --- | --- | --- |
| DLGN36, 6.1975- CGN36 | California | 595 | Newport News SB | 23.1.1970 | 22.9.1971 | 16.2.1974 | stricken 7.1999 |
| DLGN37, 6.1975- CGN37 | South Carolina | 596 | Newport News SB | 1.12.1970 | 1.7.1972 | 25.1.1975 | stricken 7.1999 |
Technical data
| | |
| --- | --- |
| Displacement standard, t | 10500 |
| Displacement full, t | 11400 |
| Length, m | 173.8 wl 181.7 oa |
| Breadth, m | 18.6 |
| Draught, m | 6.30 |
| No of shafts | 2 |
| Machinery | 2 sets geared steam turbines, 2 D2G reactors |
| Power, h. p. | 70000 |
| Max speed, kts | 30+ |
| Fuel, t | nuclear |
| Endurance, nm(kts) | practically unlimited |
| Armament | 2 x 1 Standard SM-1MR SAM (80 RIM-66), 1 x 8 ASROC ASuR (24 RUR-5), 2 x 1 - 127/54 Mk 45, 4 - 324 TT (16), helicopter deck |
| Electronic equipment | SPS-40B, SPS-48C, SPS-10, 4x SPG-51D, SPG-60, SPQ-9A, LN-66 radars, SQS-26CX sonar, WLR-1, WLR-3 ECM suites, 2x Mk 28 decoy RL, NTDS CCS |
| Complement | 533 |
Standard scale images

California 1975
Graphics
Project history
These two ships were nuclear versions of the abortive conventionally-powered FY66 guided missile destroyer, built under the FY67 and FY68 programme, the first long lead time items having been bought under the FY66 programme. A third ship, partially funded in FY68, was built instead of a new design. Their construction was quite expensive, and by the late 1960s Secretary of Defense McNamara was unwilling to release funds for them; they were built as a result of Congressional pressure.

The design originally called for a pair of heavyweight Mk 42 127mm/54 guns and two torpedo tubes for Mk 48 torpedoes in the transom; the tubes were discarded and lightweight Mk 45 guns substituted. The missile battery was controlled by the new digital Tartar-D (SPG-51D) fire control system, and. compared to the Bainbridge and Truxtun, they had improved D2G reactors with about three times the core lifetime. A helicopter landing area was provided aft, but they had no hangar, as they were designed during the gap between DASH and LAMPS. The Californias, have been described as the first US nuclear surface ships intended for series production. They were redesignated 'cruisers' (CGN) in 1975.
Modernizations
late 1970s, both: + 2 x 4 Harpoon SSM (8 RGM-84A)

early 1980s, both: - WLR-1, WLR-3 ECM suites, 2x Mk 28 decoy RL; + 2 x 6 - 20/76 Mk 15 Phalanx, 4 x 1 - 12.7/90, 2x Mk 90 radars, SLQ-32(v)3 ECM suite, 4x Mk 36 SRBOC decoy RL, T-Mk 6 Fanfare torpedo decoy

1986-1987, both: + Kevlar armour over vitals.

1993, California; 1994, South Carolina: - SPS-40B, SPS-48C, SPS-10, LN-66 radars, T-Mk 6 torpedo decoy; + (2 - 4) x 1 - 12.7/90, SPS-49(v)5, SPS-48E, SPS-64(v)9, SPS-67(v)1 radars, SLQ-25 torpedo decoy

1993, both: - 1 x 8 ASROC ASuR
Naval service
No significant events.