Photo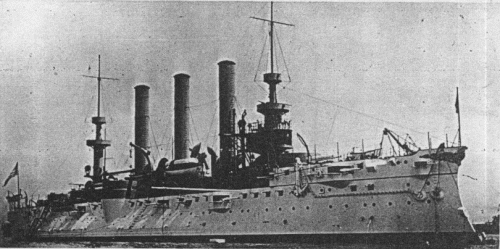 Brooklyn 1898
Ships
| No | Name | Yard No | Builder | Laid down | Launched | Comm | Fate |
| --- | --- | --- | --- | --- | --- | --- | --- |
| ACR3, 7.1920- CA3 | Brooklyn | 275 | Cramp, Philadelphia | 2.8.1893 | 2.10.1895 | 1.12.1896 | stricken 3.1921 |
Technical data
| | |
| --- | --- |
| Displacement normal, t | 9215 |
| Displacement full, t | 10068 |
| Length, m | 122.7 |
| Breadth, m | 19.7 |
| Draught, m | 7.32 mean |
| No of shafts | 2 |
| Machinery | 4 VTE, 7 cylindrical boilers |
| Power, h. p. | 16000 |
| Max speed, kts | 20 |
| Fuel, t | coal 1753 |
| Endurance, nm(kts) | 6088(10) |
| Armour, mm | Harvey and nickel steel - belt: 76, deck: 152 - 64, barbettes: 203 - 76, turrets: 140, casemates: 102, CT: 216 |
| Armament | 4 x 2 - 203/37 Mk IV, 12 x 1 - 127/40 Mk III, 12 x 1 - 57/45 Driggs-Schroeder Mk I, 4 x 1 - 37/40 Driggs-Schroeder heavy Mk I, 5 - 450 TT (4 beam, 1 bow) |
| Complement | 561 - 581 |
Standard scale images

Brooklyn 1896
Graphics
Project history
Authorized under the Act of 19.7.1892. A ship of unusual appearance with pronounced tumblehome and three high funnels. The fore 203mm turret was at forecastle deck and the others at upper deck level with the supports for the wing turrets rising from the inward sloping side. Originally the forward and starboard wing turrets were electrically trained and the other two steam. Eight of the 127mm guns were in main deck sponsons and four at upper deck level with the foremost pair sponsoned under the forecastle.
Ship protection
The 76mm belt only covered the machinery spaces, and protection depended largely on the armour deck which was 76mm flat and 152mm on the slopes by the belt, and 64mm fore and aft. The barbettes were shallow 203-102mm rings with 76mm ammunition tubes.
Modernizations
(1908 - 1912): the turret hoists were improved, fire-control fitted; - 5 - 450 TT

1919: - 4 x 1 - 127/40; + 2 x 1 - 76/52 Mk X
Naval service
Brooklyn was out of commission from 1908 to 1914. Her last year's commission from January 1920 was as flag of the Pacific Fleet destroyers.