Ships
| No | Name | Yard No | Builder | Laid down | Launched | Comm | Fate |
| --- | --- | --- | --- | --- | --- | --- | --- |
|   | Atlanta |   | John Roach, Chester | 8.11.1883 | 9.10.1884 | 19.7.1886 | stricken 4.1912 |
|   | Boston |   | John Roach, Chester // New York N Yd | 15.11.1883 | 4.12.1884 | 2.5.1887 | Naval Militia TS 6.1911 |
Technical data
| | |
| --- | --- |
| Displacement normal, t | 3189 |
| Displacement full, t |   |
| Length, m | 86.3 |
| Breadth, m | 12.8 |
| Draught, m | 5.18 mean |
| No of shafts | 1 |
| Machinery | 1 HCE, 8 cylindrical boilers |
| Power, h. p. | 3500 |
| Max speed, kts | 13 |
| Fuel, t | coal 490 |
| Endurance, nm(kts) |   |
| Armour, mm | steel; deck: 38, barbettes: 51 |
| Armament | 2 x 1 - 203/31 Mk I, 6 x 1 - 152/30 Mk II, 2 x 1 - 57/40 Hotchkiss Mk I/II, 2 x 1 - 47/40 Hotchkiss Mk I, 2 x 1 - 37/20 Hotchkiss Mk I |
| Complement | 284 |
Standard scale images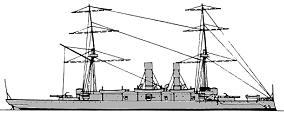 Atlanta 1886
Project history
Authorized under the Act of 3.3.1883. 203mm guns were echeloned to port forward and starboard aft, with the end 152mm in the central superstructure counter-echeloned, to permit axial fire of 1 203mm and 1 152mm fore and aft. They were much too slow to be effective cruisers, and the partial deck gave very inadequate protection. Sail, in the form of a brig rig without royals or head gear, was later removed.
Ship protection
A 38mm deck extended for 30.5m over the machinery spaces, and 203mm guns had a 51mm barbettes and later received shielded mountings.
Modernizations
None.
Naval service
From November 1905 Atlanta served as an accommodation ship for torpedo boat crews, while Boston acted as a training ship for the Oregon Naval Militia from June 1911 to September 1916, served as receiving ship at Yerba Buena from 1918 to 1946, and renamed Despatch in August 1940.